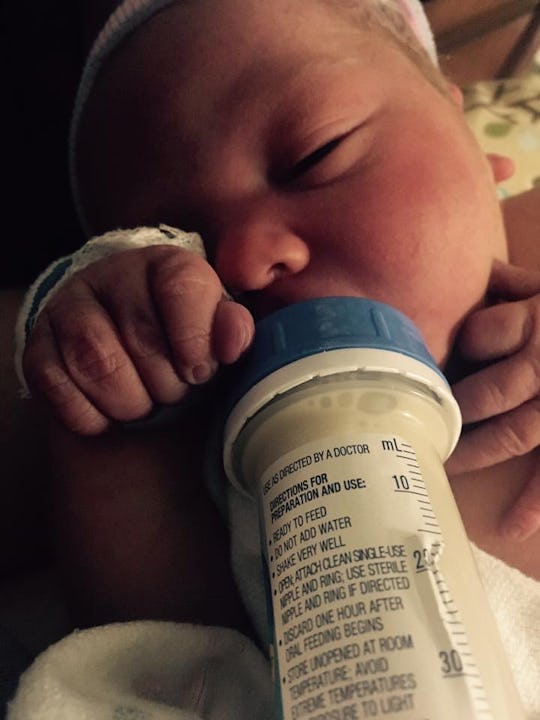 Courtesy of Steph Montgomery
10 Pieces Of Formula-Feeding Advice I'm So Glad I Ignored
Before I had my first child I didn't know anything about formula. In fact, I only knew I didn't want to use it. Then I wasn't able to produce enough breast milk and found myself lost in the formula aisle, trying desperately to pick the "right" one. I received so much conflicting advice about formula from friends, doctors, and strangers on the internet, so I didn't know who to trust. In the end, though, there are pieces of formula-feeding advice I'm so glad I ignored, if only because now I know they were outdated, incorrect, or just wouldn't work for my family.
Because we seem to live in a "breast is best" culture, it can be hard for new moms to get good advice about formula and how to feed it to their child and/or children. If you visit the formula aisle at any local and/or chain store, even every formula can says "breast is best," and then that very same can instructs you to ask your doctor if you should use formula, which one to pick, and how to prepare it safely. When I asked my doctor, however, she didn't really have any formula-feeding advice beyond encouraging me to keep breastfeeding (which, if you ask me, was really messed up).
So I unleashed my questions on the internet hoping for answers, where I found thousands of sites about how to breastfeed and not very many about formula (that weren't trying to sell me something, that is). Mommy groups were no better, either. The first time I posted a question online about which formula to use, the first commenter literally suggested that I try harder to breastfeed, and the next mom suggested that I make my own formula from goat's milk.
Now, after formula feeding three babies and navigating everything from bottle refusal to food intolerances, I am able to give other moms some real advice (and encouragement) about formula. I also know, from experience, which pieces of advice are worth believing and which ones I was better off ignoring, like the following: