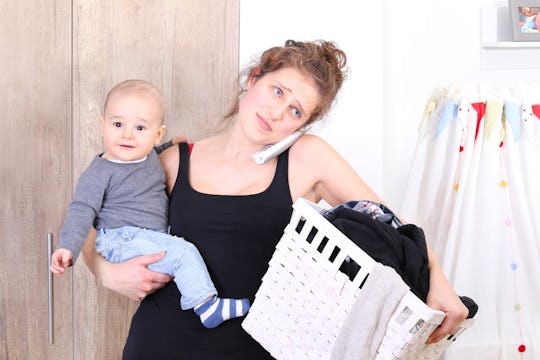 tiagozr/Fotolia
10 Reasons Being A Stay-At-Home Mom Will Always Be Harder Than Being A Working Dad
When you're wiping poop off of every board book in your house, it's hard not to think that your master's degree was a total waste. It takes a special kind of person to take on the thankless role of unpaid home engineer. You're looking at 24/7 responsibilities, constant demands on your time and energy, plus all those assholes who think it's "not a real job." I'm sure working fathers have their challenges, but unless you're managing a rodeo of feral cats every day, I'm going to go ahead and say being a stay at home mom is harder than being a working dad. Like, way harder.
After 13 years as a classroom teacher, I was ready for something different. When the birth of my child coincided with a family move to another state, it seemed like the perfect time to try out something new. So I became a stay-at-home mom, and it was... different. As a third grade teacher, I was rarely at my desk, but mom life was infinitely more physically and emotionally draining. I was simultaneously trying to keep a newborn alive and maintain my household. My working husband made the mistake of complaining that his friends' wives did their laundry, and I informed him that they didn't have an infant.
I was a stay-at-home mom for the first 18 months of my daughter's life. At that point, as exciting job opportunities started to crop up, I decided to put her in a preschool program. I love the balance that working part-time has brought to my life. Don't get me wrong, I am beyond grateful that I was able (financially and otherwise) to be at home with my daughter for so long. I think it was a gift to both of us, and I wouldn't take it back. I just think it's a sacrifice that deserves a little recognition, especially from people whose coffee is always hot.