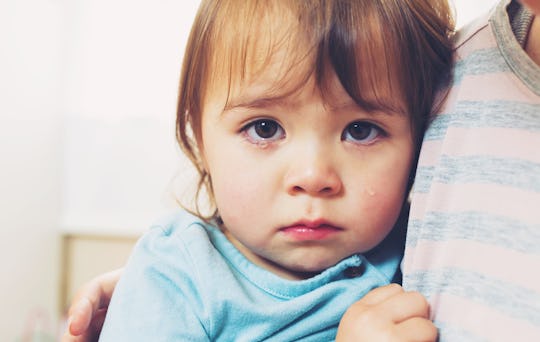 Fotolia
10 Reasons Saying "It's OK" When Kids Are Upset Is Actually Hurtful
A few days ago, my son and I endured our least favorite thing: a dentist appointment. My toddler hates even normal daily toothbrushing, so seeing the dentist is literally his version of hell. As soon as the dentist approached his mouth, he started screaming and crying as hard as I'd ever seen. "It's OK, it's OK," the dentist cooed, as I cringed while holding my shaking son. I felt for her; she was trying to do her job and teeth cleaning is important. However, are so many reasons why saying "it's OK" when kids are upset is actually hurtful, despite our best intentions. I always hated hearing it as a kid, and still get angry when I hear it now. Honestly, it's become one of my biggest pet peeves when watching people interact with my child.
Thanks to a lot of reading and work with a great therapist, I've finally figured out why I can't stand it when people say "It's OK." It's an empty phrase, offered by people who want to shut down an emotional expression because other people's emotions make them uncomfortable, or prevent them from doing what they want to do. That's understandable, but in a moment when nothing feels right, hearing "It's OK!" is the worst. At best, it gives you exactly nothing you can use to dig yourself out of whatever emotional hole you're in. Instead of reaching down to help you, it's like the person saying it is looking down at you, stranded in your awful hole, denying that the hole is even there. So, now in addition to dealing with whatever created the emotional hole, you have to deal with either feeling ashamed for being in the hole, or with the fact that the person you're with doesn't understand what's going on (or doesn't care).
Now, I totally get why a lot of people — myself included, until I intentionally set out to stop— say this to children (and adults) as a default. Most of us have grown up having our feelings dismissed in this manner, so we've never learned how to respond any differently. However, as annoying as it is to hear this as an adult, it's really problematic to hear it as a child. Unlike adults, who hopefully have enough self-confidence and perspective to be able to separate their own feelings from what other people around them are saying, kids are still learning about emotions and everything that goes along with them. When bigger people, particularly their caregivers and other adults they trust, tell them "It's OK" when they're upset it's not just hurtful; it shuts down an opportunity to empathize, connect, and teach kids how to understand and deal with their emotions. It's a short statement that, if repeated enough, contributes to long-lasting struggles with emotions and interpersonal conflict.
Though I'm focusing on why it's a problem to say "It's OK" to kids when they're upset, please know that this isn't just something that's important to rethink for kids. It's important for dealing with anyone. "It's OK" erects a wall between people, rather than helping us connect with someone who's in the middle of a problem that is very real for them, no matter how small it seems to us. The next time you find yourself saying "It's OK" to a small (or big) person in distress, please reconsider, for the following reasons.