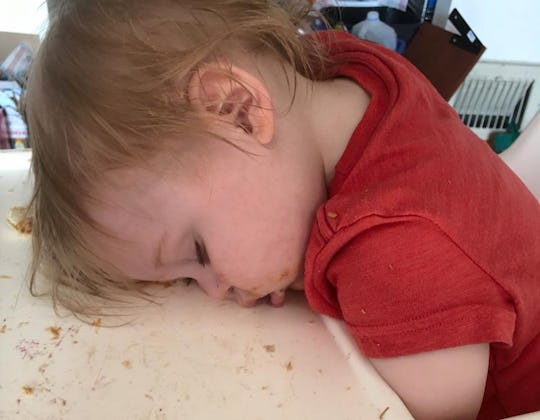 Courtesy of Steph Montgomery
10 Reasons Why I Refuse To Set A Sleep Schedule For My Kid
At 10:00 p.m. last night my toddler was still going strong. After a couple of attempts to put him down for the night, I let him play on the floor until he got tired. I tried not to stress about it, even though I know that some people would probably judge me if they knew that I refuse to set a sleep schedule for my kid. I try to remember that they don't have to parent my child, so their opinion on the subject matters less than my sanity.
Now, I'm not saying that I never set a sleep schedule. When my oldest child was a baby everything centered around her nap and bedtime schedule. Every baby sleep book I read told me that having a schedule was the best way to ensure that my baby would sleep through the night and get enough rest. So I tried my best to maintain a routine and, for the most part, in the beginning it worked.
Then my child turned into a toddler and her sleep schedule went out the window. I'm sure there was a logical explanation for her seemingly permanent sleep regression, but bedtime became an hours-long ordeal and she would almost always end up waking up in the middle of the night or in bed with us. Her doctor recommended putting her to bed earlier, and it didn't take long for me to realize that putting my child to bed before she was tired ended in a longer fight, more frustration, and an even later bedtime.
So when I had my next child I became way more flexible about sleep schedules. Hell... with two kids, I had to be. I learned to watch my kids for cues that they were actually tired before even mentioning bedtime and, as a result, found it much easier to get them to sleep. The key was hitting the sweet spot between "I'm not tired," and "I'm so tired, I'm never going to bed." For the most part, though, my kids are way better indicators for when it's time for sleep than any clock or set schedule ever was. So yeah, I don't make my kids sleep on a schedule, and here's why: