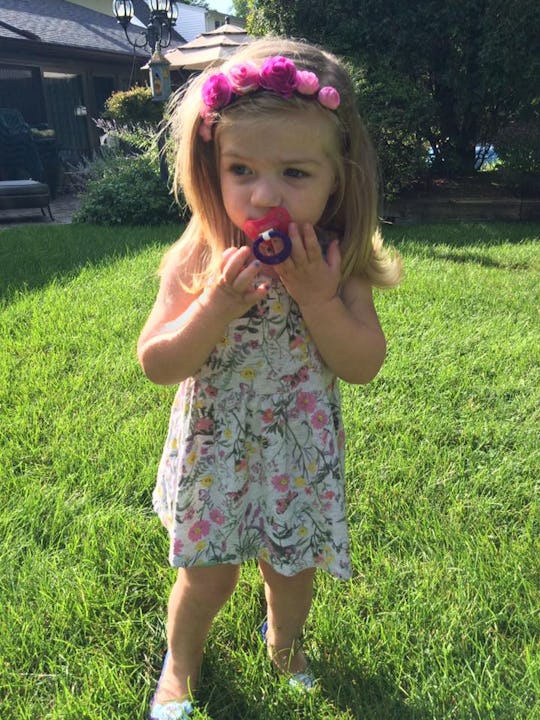 Photo courtesy of Jamie Kenney
10 Reasons Why I Won't Apologize For Giving My Toddler A Pacifier
My first child had no interest in a pacifier. I tried a couple times to get him to take one, but he always spat them out and gave me an incredulous, judgmental look. But my second? It was love at first suckle. And after a while, the incredulous, judgmental looks started to come from other people, and they only got more numerous as my daughter became a toddler with a pacifier in her mouth. You know what I said to that? Bring it on. I won't apologize for giving my toddler a pacifier.
At this point, my daughter is no longer using a pacifier. She also won't be a toddler after the end of the month — she's turning 4 and I'm not crying, you are! With a little help from yours truly, my daughter gave up her beloved comfort object a few months ago and, fortunately, things have gone well ever since. Our pacifier stage is over, and even with the benefit of 20/20 hindsight I regret absolutely nothing. I don't think I waited too long and don't think I did anything that requires even a sheepish explanation to anyone.
My confidence in my decision comes from two main issues: pacifiers are just not that huge a deal, and parents have enough really hard things to do that are a big deal and this was something that made certain aspects of my life easier, so I wasn't going to make it my hill to die on. And if you think this is me just making an excuse for my laziness, well... whatever. IDGAF.
Parents often get a lot of grief for letting their child use a pacifier "for too long" (whatever that even means). I don't know why but it really, seriously irritates some people. But here's why I won't be made to feel bad by them: