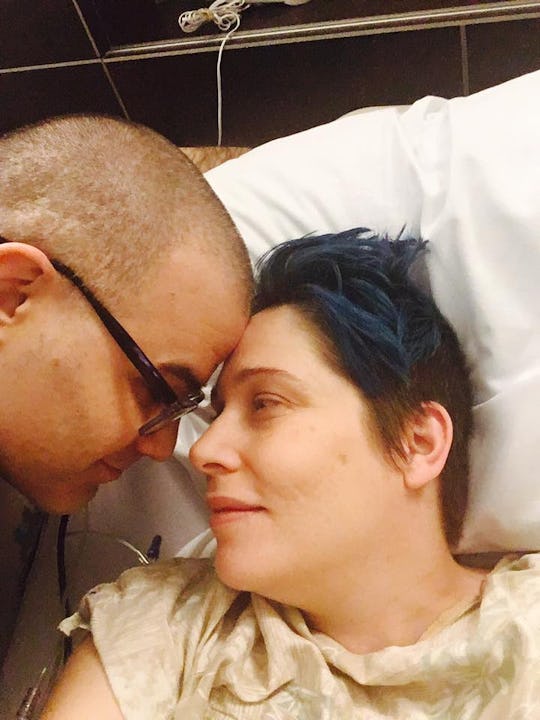 Courtesy of Steph Montgomery
10 Things A Grown-Ass Man Says When His Partner Has To Be Induced
The first time I was induced, I was terrified. I was so worried that it would ruin the birth experience I hoped for, I actually considered chickening out. My husband, at the time, didn't help, either. He kept reminding me that I had wanted a non-medicated birth, and suggested we just wait for labor to start on its own. So on top of being anxious and afraid, I was worried my support person was judging me. These were not the kind of things a grown-ass man says after his partner has to be induced... a fact I learned the very, very hard way.
Thankfully, I learned that having an induction isn't as horrible as I had assume. I made it through the process relatively unscathed, and in spite of my then-husband's comments. And the next time I had to be induced was so much more pleasant, even though I was scared, had health concerns to consider, and was worried about my baby. Why? Well, because my new husband was so encouraging and supportive. He made sure that my needs were met, and that I had an advocate every step of the way. When I was more anxious than I think I've ever been, the right words of comfort and love made a huge difference. I knew I could tackle anything that happened, as long as he was by my side.
Labor is is hard and scary all on his own, so having to be induced just adds to the often overwhelming fear and uncertainty. The things your partner says matter, and can either help or hinder the process. Any grown-ass man should try his hardest to be helpful, supportive, positive, and kind, so your partner can weather the process like the badass she is and with the love and encouragement she deserves.