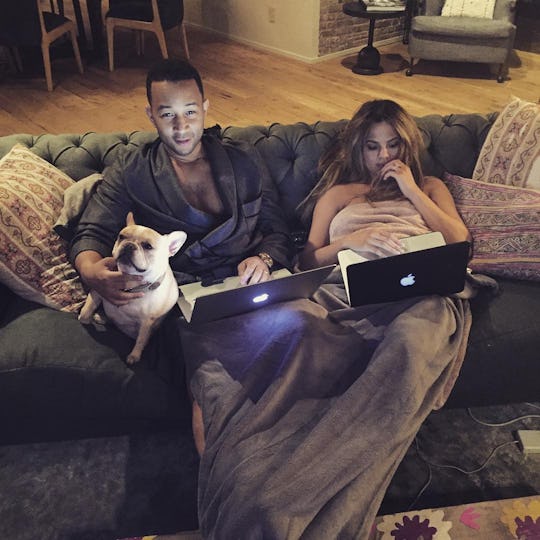 Chrissy Teigen/Instagram
10 Things All Women Who Are Trying To Conceive Google At Some Point
Deciding to start a family is such a life-changing and overwhelming and exciting decision. It's easy to let yourself get swept away by those emotions, but having a baby is a big deal that requires a lot of preparation. Contrary to popular belief, trying to get pregnant isn't easy, and doesn't just "happen," especially (sometimes) for those who want to get pregnant the most. I mean, the best kind of work, but work nonetheless. Women trying to get pregnant will have endless questions and concerns which is, no doubt, why there are a number of things all women who are trying to conceive Google at some point. I mean, if there's ever a time to put the internet to good use, Googling, "How can I get pregnant?" has to be one of them, right?
Becoming a parent is a process and getting pregnant is the first step. For some, this happens quickly and easily, but for others it takes some trial and error, and occasionally some time (and money and additional resources and procedures). The act of trying to conceive can be fun, sure, but it's also got the potential to be extremely taxing and stressful. When all you can think about is becoming a mother, every day seems to more in slow motion. The longer it takes to become pregnant, the slower the days, until eventually you can't help but feel like time has ceased to exist and, well, so have your pregnancy chances. Fear, man. Fear is mean.
So, what's a person to do when she's confronted with endless days and unabashed fear and worry and anxiety and excitement and hope? Visit Dr. Google, of course! We've all found ourselves researching various ailments via Google at some point in our lives, but none more intensely than when trying to conceive. So, with that in mind and in an effort to let all women out there know that, hey, you're not alone; here are ten things that anyone that's trying to conceive has Googled at some point. Usually, the devil you know beats the devil you don't, even if the "knowing" comes courtesy of Google.