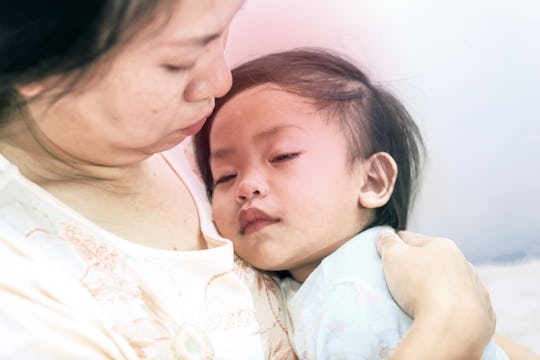 Suwittawatpix/Shutterstock
10 Things Every Mom Needs To Hear At The End Of The Day
They say actions speak louder than words. They, whoever they are, aren't wrong. But that doesn't mean our words don't matter. In fact, I think there are things every mom needs to hear at the end of the day to help her get through the next one. And not just moms, either, but probably every parent.
(Though, let's be honest here: moms often do not get the recognition dads do for the same tasks. I love you, dudes, but your bar is low and you're graded on a curve.)
A lot of these things can be said by anyone, but I'm mainly focusing on this from the perspective of a mom hearing these things from her partner because, realistically, that's who is going to be talking to her at the end of the day. The main things I feel moms need to hear all come down to teamwork and acknowledgement. Communicating what the hell is going on is clutch if you're going to be parenting with another person and acknowledgement because, come on now.
No one gets into motherhood for the praise or because it's simple, and if they did they're in for a helluva shock once their little poop-machine arrives. Don't get me wrong, motherhood is wonderful, or can be, but it's not glamorous and no one gives you glowing quarterly reviews or bonuses. It also requires careful planning and coordination; the kind of emotional labor that's rarely acknowledged.
So with all that in mind, here's how a partner (or, you know, whomever) can let a mom know they see her, they appreciate her, and they're there for her: