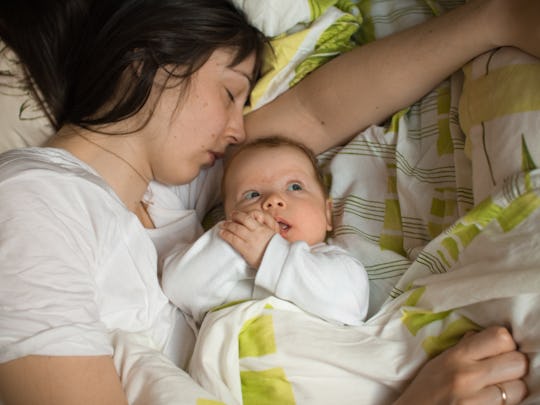 Fotolia
10 Things Every Mom Thinks About Co-Sleeping, But Doesn't Say Out Loud
I'm laying next to my sleeping toddler, looking at his beautiful face while the early-morning sun peaks through our curtains. I'm so happy and enjoying the smell of his newly-washed hair when, suddenly, he thrashes his tiny body and kicks me in the stomach while simultaneously hitting me in the nose with his tiny fist. That, in an nutshell, is co-sleeping. I'd venture to guess there are things every mom thinks about co-sleeping but doesn't say out loud, because the act itself is filled with juxtaposing emotions and situations that can make it both the best thing ever, and the freakin' absolute worst thing known to all that is motherhood.
I didn't think I would end up co-sleeping with my kid. To be honest, I was afraid of co-sleeping and had the normal, new mom, "I'm going to roll over and squish my baby" fear that isn't really necessary but still a very real, relentless fear. However, when my son had trouble regulating his body temperature directly after he was born, my doctors and nurses insisted I co-sleep with my son in the hospital. The first night of my son's life was spent sleeping next to me, skin-to-skin, and in that moment my entire mindset regarding co-sleeping changed. My body could still sustain his and I could breastfeed with ease and I didn't have to get up to check to see if he was breathing. It was the best. Until, of course, he started growing and moving and throwing his hands and feet every-which-way and taking up our entire bed. Then, you know, it was the worst.
Because there is so much controversy surrounding co-sleeping (and because mothers seems to be shamed and judged for every single decision they make these days) it's pretty understandable that the love/hate things we think about co-sleeping aren't articulated on the regular. I, however, am willing to take one for the co-sleeping team. Here are just a few things I imagine every mom thinks about co-sleeping, because it's the best worst decision (or the worst best decision) you'll ever make as a mom.