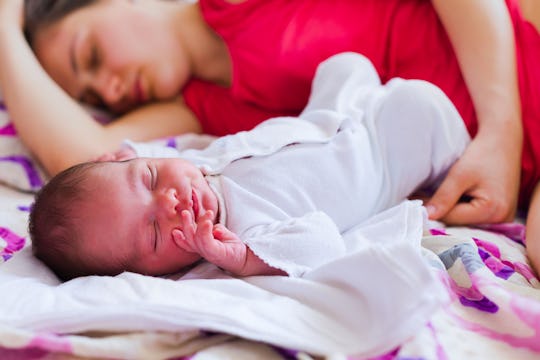 Fotolia
10 Things You'll Worry About When Co-Sleeping (That You Really Don't Have To)
Thanks to many prevailing myths and misinformation, co-sleeping seems somewhat synonymous with worry and fear. In fact, many parents end up so afraid about potential problems, that they dismiss even the possibility of co-sleeping. While every situation, every family and every baby is different, I can tell you that many of the things you'll worry about when co-sleeping will not happen and, in turn, aren't really things you need to focus your time and energy worrying about.
When I first had my daughter, my partner and I wanted to try to get her to sleep in her own crib. We quickly learned her own crib wasn't where she felt comfortable (and understandably so, I mean, she was so tiny and the world aka her crib is a big place). So, we tried having her sleep in her pack-n-play napping station, then buckled in her swing, then in her car seat and, eventually and when all else failed, we resorted to having our daughter sleep with us. It turns out, nothing else worked quite like sharing our bed with our baby girl.
We all seemed to get much better sleep by co-sleeping. That is, after the first initial few nights of course, because my partner and I were extremely nervous about a variety of things. However, we quickly discovered that many of our worries and fears were unnecessary, and stemmed from a slew of misinformation that keeps being recycled on the internet and in mom groups and by other friends and well-meaning family members. Thankfully, we also realized we weren't alone in our unnecessary fears which means, dear reader, that neither are you. So, with that in mind, here are a few of our worries and fears that, in the end, took up way too much room in our co-sleeping bed.