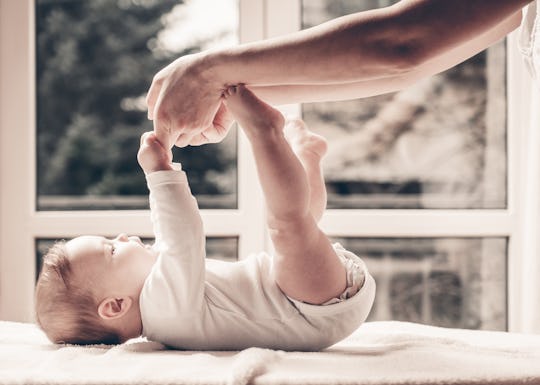 Fotolia
10 Thoughts I've Had About My Baby's Poop
I don't know how this happened, but suddenly I've become the go-to girl for gross (yes I'm adding that to my LinkedIn profile). Want to know about pregnancy hemorrhoids or what a placenta actually looks like? I'm your woman. So naturally, I have lots of things to say about poop. It's sad to admit, but my day revolves around my baby's bowel movements. Not only are they a really important indicator of health, but the thoughts I've had about my baby's poop tend more toward shock and awe, so at least I'm simultaneously entertained.
Before becoming a mom myself, I had my fair share of experience with dirty diapers. Still, and to my surprise, nannying and babysitting didn't adequately prepare me for the full gamut of poopy possibilities. I'd never cared for a newborn, so I didn't know about the transitions from black meconium to army green transitional stool to yellow mustard breastfed poop in the first few weeks. Imagine my surprise, then, when my infant started solid foods. I'm sorry, but nothing can ready you for an intact asparagus spear in your baby's diaper.
Maybe you've had these same thoughts and are searching for some solidarity, or perhaps you're preparing yourself for the poop that is to come. Well, come along with me as your guide (The Mistress of Meconium, The Pied Piper of Poop, the Duchess of Doody), and enjoy my every waking thought about what's inside that dirty diaper.