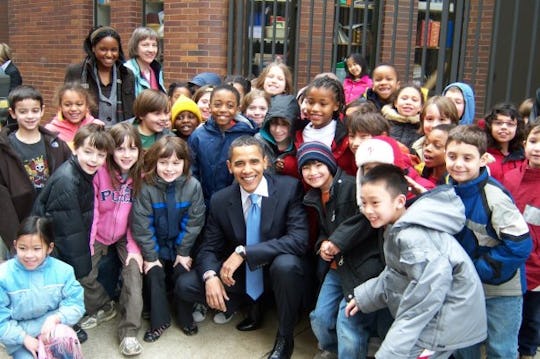 Courtesy of Sabrina Joy Stevens
President Obama Gave Me Hope For My Child's Future
Nearly nine years ago, I was leading my first solo lesson as a student-teacher when a secret service agent walked into the second grade classroom where I stood. "Senator Obama is about to get into his car right outside your classroom. If you guys are good, you can come say hi to him." Stunned and ecstatic, my cooperating teacher and I bundled the kids in their coats and ushered them outside, just in time to greet Mr. Obama as he emerged from his hotel. This was one of the first moments when President Obama gave me hope for my children's futures, even though I wasn't yet a mother.
As we gathered in the chilly Philadelphia alleyway separating our school from his hotel, his entire face lit up when the kids, unprompted, cried out, "Hi, Senator Obama!" in that perfect, song-like way kids do. Though he was due any minute at the National Constitution Center to give what would be one of the most important speeches on race during a presidential campaign, the man who would be president months later stopped to chat, shake every single student's hands, and take photos with us like we were his only priority for the day. I was overcome with excitement and gratitude, to unexpectedly be in the presence the person I was supporting for president, and to see that he was just as warm and inspiring in person as he appeared to be behind a podium. When he finally got in his car to give his speech, we gave him the biggest, most enthusiastic send-off we could muster. Thoroughly charmed, the students played "Senator Obama Says" (their adaptation of Simon Says), every day at recess for weeks afterward.
Now, I have disagreed with President Obama heartily on certain issues. I am a staunch supporter of public schools and an outspoken opponent of test-and-punish education policy, which his first education secretary was known for. I'm pretty far to virtually everyone's left when it comes to matters of national security and surveillance, so of course I often disagreed with him there, as well. And like the Reverend Dr. Martin Luther King, Jr., I believe healthcare should be a matter of right, not luck in birth, marriage or employment, so I wanted (and still want) what ultimately became the ACA to be a single-payer plan, though I recognize the difficulty in getting something like that done at the time. Indeed, I recognize that it's unlikely for any president to be my perfect match on every single issue, because they have to be a leader for the whole country, not just me.
So isolated policy differences aside, I can't even begin to describe what it has meant to me to have the Obamas in the White House. It has been so affirming to see this beautiful, Black First Family there, and few people of any color are as kind, brilliant, and inspirational as Barack and Michelle. "Heartbreaking" doesn't begin to describe what it feels like to have to watch this dignified, accomplished, Black man hand this most important office to the chosen candidate of the Ku Klux Klan and American neo-Nazis. And "terrifying" doesn't begin to describe what it feels like to watch a tantrum-prone man who can't even control himself on Twitter, get control of the world's largest nuclear arsenal, as well as a pen (and a GOP-controlled Congress) capable of signing away so many hard-won rights for women, people of color, people with disabilities, immigrants, non-Christians, and the LGBT community.
The moral arc of the universe feels so much longer today than it did at this moment eight years ago.
But even before kids were on my horizon, President Obama made me feel better about the prospect of having them, because I got to see for myself how much he cares for kids. More than that, his campaign and his presence in the office represented the power of savvy digital organizing combined with positive, unifying ideals; two things that are available to all of us, no matter what we want to accomplish. That matters, because those of us who actually want this country to live up to its ideals have our work cut out for us, and we can't afford to despair. Our kids and grandchildren are depending on us, and we'll all have to account for what we did (or didn't do) in the coming weeks, months, and years when one of the most regressive regimes in our nation's history came to power.
I won't be watching or participating in anything related to the Inauguration. Instead, I'll be writing, planning, and organizing, inspired by our country's greatest women and men. I'll also replay lots of moments like the following, when we were led by someone who appealed to the best in us — our highest hopes and ideals — instead of our worst.