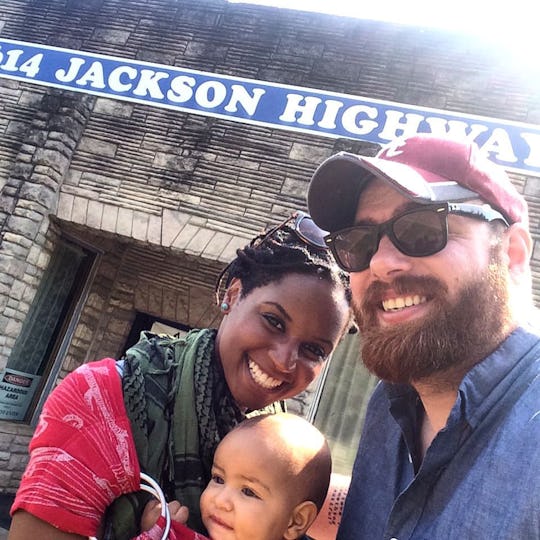 Courtesy of Sabrina Joy Stevens
You Need To Trust That Your Partner Can Parent
I absolutely hit the jackpot when I met, and later married, my best friend. There is no one else I would rather go through life with, or raise kids with; he's an amazing husband and partner. Still, I'm a recovering perfectionist and slightly less recovering control freak, who struggles to trust anyone else with anything I care about. So there are a lot of times where I have to close my eyes, breathe, and remind myself that I can and should trust that my co-parent knows how to parent. That's an adaptation of a mantra I first adopted during pregnancy, that I've since extended to basically all aspects of being a mom so I can keep my less reasonable worries under enough control to have energy to devote to my more reasonable ones.
Now, to be clear: trusting your co-parent to do their thing without being micromanaged doesn't mean compromising on decisions that are rightfully yours alone. Being a co-parenting team does not mean sacrificing your bodily autonomy so your partner feels "included" on things like choosing your birth plan or deciding whether or not to breastfeed. When it comes to choices that concern your body, that choice is completely yours and your co-parent needs to step back and be supportive of whatever you decide.
This also doesn't mean tolerating blatantly unsafe things. There's no such thing as "agreeing to disagree" on your child wearing a coat in the car seat (never, ever do that), or placing the chest clips in the wrong place. There's no "you do you!" if your co-parent wants to give your two month old honey, or skip out on necessary vaccinations and medications. Stuff like that is not a matter of opinion or style; when it comes to actual safety concerns, there are right and wrong answers and it's our job as parents to make as many of the right ones as humanly possible.
However, for things that aren't matters of life, death, or serious injury, differences in style are OK and are even a good thing. They can't do everything just like we do because they're not us. It's good for kids to get used to a variety of kinds of care, and to see that there are lots of different people they can bond with, and have a good time with, and be safe with. It's good for us too, because it means we don't have to do everything ourselves. So it's totally OK, and important, that we chill out and trust our co-parent in situations like the following: