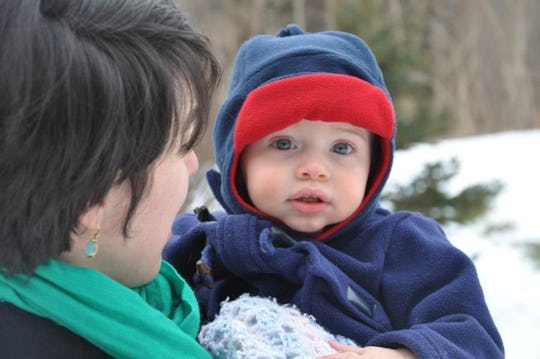 Photo courtesy of Jamie Kenney
My Sunshine Baby Helped Me Heal In Ways That No One & Nothing Else Could
I didn't see my second pregnancy coming... which, honestly, was par for the course, because I didn't see my first one coming, either. But within days of a positive pregnancy test my happiness turned to ash when I miscarried. At the time, I didn't know the phrase "sunshine baby," but later learned that it's used to describe a child who is born before a loss. And, the truth is, my sunshine baby helped me heal. He didn't take away all the pain, but he was one of the people who made the experience bearable.
The truth is, once I opened up about the fact that, yes, this miscarriage was painful, a lot of people helped me heal. My husband. The friend who sent me texts of encouragement and gave me a place to vent. Another friend who sent along fancy chocolate (never underestimate the healing power of chocolate, folks). What set my son apart, however, is that he helped me heal without even trying. Just his presence was remedial. I was wary of not being too reliant on another person, especially not my child, to make me feel whole again, but the truth of the matter is that humans have developed by relying on each other. It's who we are, it's how we survive, and how we move on.
Here are all the ways my child helped me heal from the loss of my possible child, without ever meaning to.