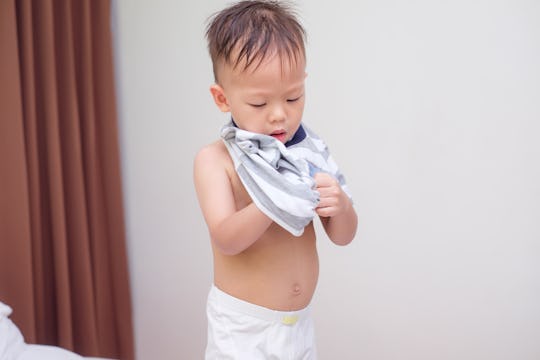 Shutterstock
10 Ways To Get Your Wriggly Toddler Dressed Without Breaking A Sweat
You have to admit, a clothing optional lifestyle does sound sort of appealing. Think about it. No need to follow demanding fashion trends, no photo-ruining muffin-tops to contend with. No wonder toddlers prefer to live in the buff. Friction-free movement all the time! But society dictates we keep them (and preferably ourselves) clothed. The trouble? It can be a battle. But how do you get your toddler to wear clothes?
Thankfully, there are some ways to convince your tot to suit up. The main thing to keep in mind with all of these suggestions? Dr. Dyan Hes says you'll do yourself a huge favor by minimizing your child's choices.
"Infants and toddlers do best with solid information," Hes tells Romper. "Too many options is overwhelming." As it turns out, telling your child what to wear (or eat or do or say) can actually be reassuring to your little one and help them feel secure. So they look a little bizarre dressed in rainboots on a sweltering hot summer day. That's just fine, says Hes. "If they get hot and sweaty they'll realize wearing rain boots on a hot day isn't a good choice in the future," he points out.
Another important factor to be aware of, says Hes, is that some kids have sensory issues and strong reactions to fabrics and textures can be an early indicator of these. So be observant of your child when you're dressing them, and talk to a pediatrician if there are consistent problems.
To get them out the door on time, here are some other ideas for how to get your kid clothed.