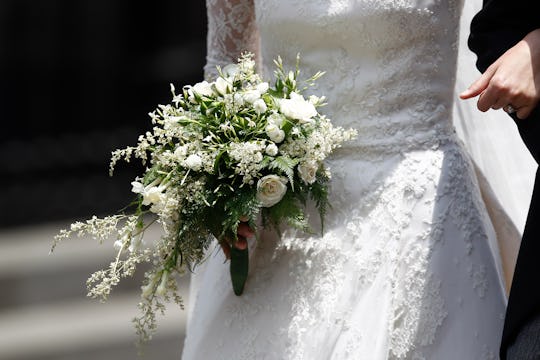 Leonardo Fernandez/Getty Images Entertainment/Getty Images
10 Ways To Incorporate Your Kids Into Your Wedding Bouquet, That They'll Love
As more couples enter second marriages or opt to wed after they become parents, they look for special ways to include their children in the festivities. In addition to putting them in the wedding party and having them participate in the ceremony (by joining in the unity candle lighting, for instance), one way for a bride to carry her young ones close to her heart is by incorporating the children into her wedding bouquet.
A full third of all wedded couples have been previously married, according to stats quoted by TripSavvy, and the American Enterprise Institute reported that 55 percent of millennials had their first child before tying the knot. That points to an impressive percentage of weddings in which children are already a part of the family unit, so it stands to reason that parents would want to have them represented at the wedding in as many ways as possible.
Couples with young children, tweens, or teens might enlist them as part of the wedding party, have them walk the bride down the aisle, include them in the vows, or reserve a special dance for them at the reception. Babies can be toted down the aisle in a decorated wagon or simply held in their parents' arms during the ceremony. But having them represented in some part of the bride's ensemble makes it that much more personal (think Angelina Jolie's wedding gown and veil, which were printed with reproductions of her children's drawings).
So if you're a mom planning her first or second wedding — or a vow renewal, for that matter — don't overlook your flowers as a vehicle to showcase your children or stepchildren in the ceremony. The kids will be delighted to be a part of the bouquet, and the display will be so memorable that you'll want to keep it forever (so plan to have a separate bunch of blooms for tossing at the reception).