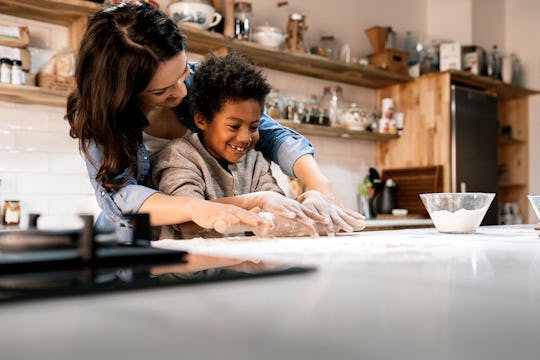 Santi Nunez/Stocksy
If You're Dreading "The Talk" With Your Kid, These Phrases Can Get You Started
Conversations around sex and sexuality can start long before kids are actually ready for a detailed discussion about logistics. From a young age, kids can be taught about consent, respect, and boundaries in an age-appropriate manner to get a jump-start on this important topic. But when it does come time for a big, detailed convo to take place, it might be helpful to take a look at some sample ways to begin "the talk" with your kid to prepare yourself.
Having an ongoing and open conversation with your child from early on might help make it less awkward to approach the sex talk when the time actually comes. Just the other day, my 6-year-old asked if moms "poop out babies." Yep. That happened. The exchange included some casual chat about wombs and birth canals, which seemed to appease my son, who decided a minute later that it was time to talk about Pokemon cards instead. Continuing to have these small discussions when the opportunities arise helps me feel more secure in my ability to have an in-depth discussion about sex when he's ready for that.
While sitting down and having a serious talk may not be the route you choose, these samples can truly work in a variety of situations when you're ready to broach "the talk" with your kiddo. At what age you give which details truly depends on your child and their maturity level, but these 10 conversation starters can help you set off on the right foot.