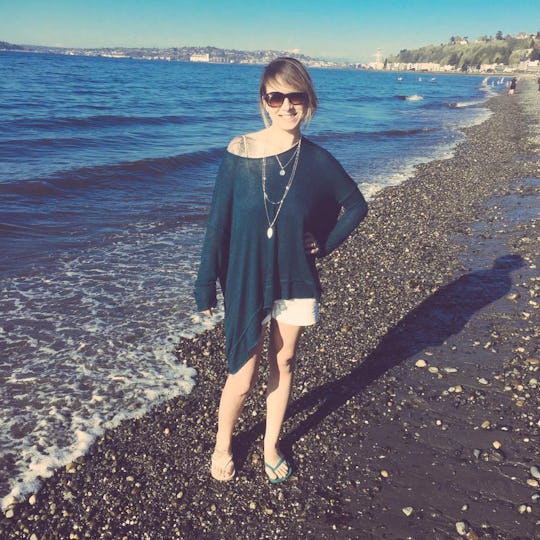 Courtesy of Danielle Campoamor
I Owe My Body 11 Apologies Now That I'm A Mom
I'd love to write some elegant prose about how in love I've always been with my body. I wish I could go on and on about the foresight I had to appreciate my person, to fall in love with my frame, and be thankful for the vessel that carries my brain around the world. However, I can't. I have rarely if ever been particularly kind to my body, so there are a list of apologies I definitely owe my body now that I'm a mom. Apologies that are long overdue, wholeheartedly sincere, and shouldn't have been a necessity in the first place.
For me, it was relatively easy to take advantage of my body for a significant part of my life. Growing up in a physically abusive environment as a child, I learned that my body wasn't really worth much in terms of protection, safety, or even comfort. Couple that loss of self-worth with a juxtaposing feeling of indestructibility, and I wasn't particularly kind to the vessel responsible for carrying me from place to place. I talked down to it and told it it was worthless and forced it to shrink to unhealthy sizes, all the while engaging in dangerous behavior that would test my body's limits. I didn't think anything bad would happen to my body, and simultaneously assumed that if it did it was because my body "deserved it." That's a dangerous combination, dear reader.
Then my son was born, and I became acutely aware of not only how powerful my body is, but how much love it truly does deserve. It has done so many incredible things, including bringing another human being into the world, and if I am going to continue to care for, love, and enjoy having that other tiny human being in my life, I have to not only take care of my body, but actively remind myself that it wouldn't be possible to live the life I'm currently living without my body. So, while I am not one to really enjoy eating crow and admitting I'm wrong, here are just a few reasons why I owe my body all the apologies. It truly did deserve better, so better is what I'm going to give it.