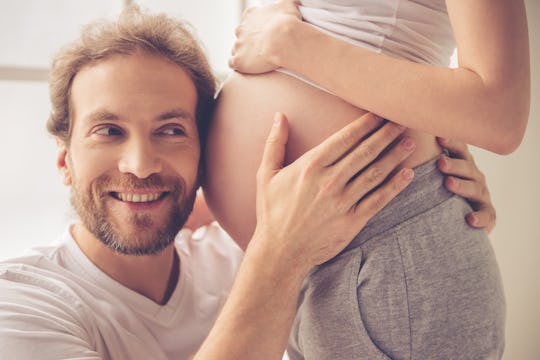 George Rudy/Shutterstock
11 Horribly Inconsiderate Things My Partner Did When I Was Pregnant
Throughout both of my pregnancies, and while my body grew to shelter the life growing inside of it and as I saw a lifelong dream inch ever-closer into reality, one prevailing thought ran through my mind: my husband is the worst person I have ever met. I wish I was kidding, folks, but we're all friends here and I have to be honest. I wouldn't wish the horribly inconsiderate things my partner did when I was pregnant on a dog. Not even a mean dog! You know, like one with a spike collar that bites people and growls at other, nicer dogs.
"Hold on, now," you may say. "I've read more than a few things you've written about your husband before. You always say such nice things about him. He sounds like a great guy!" To that I say yes, he is. Usually. But something changes when I'm pregnant. He becomes really cranky and unreasonable. His usual thoughtfulness and compassion suddenly seems to go out the window, as if I wasn't worth the effort.
OK, OK. Here. Classic example: I was pregnant with our first child during the unforgiving heat of summer. Seriously, it was the hottest summer in over 100 years in New York City during my third trimester. Did my husband once offer to make it snow? Did he even suggest we temporarily move to the southern hemisphere, where it would have been winter? Not. One. Damn. Time.
Do you see what I'm talking about? He was unbearable. I don't know how I managed to put up with his nonsense for as long as I did and while I was doing all the work and I was growing limbs inside my body and I was, singlehandedly, providing a human shelter for our unborn child. And you guys, that's just the beginning: