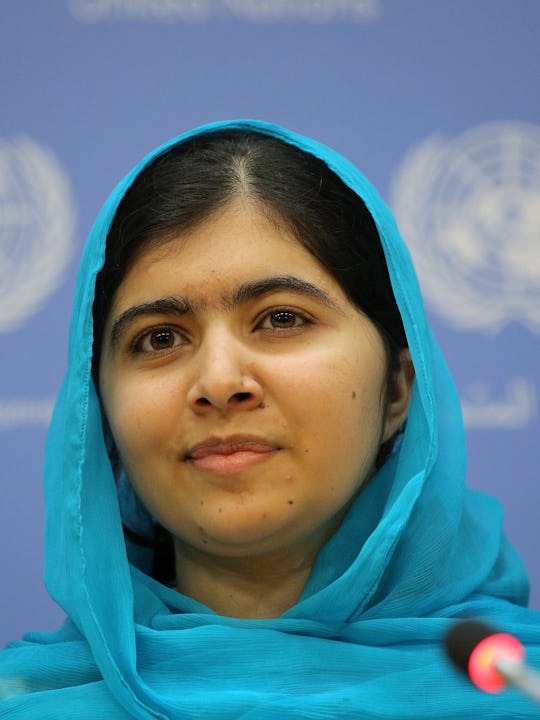 Jemal Countess/Getty Images Entertainment/Getty Images
Celebrate International Day Of The Girl With These Wise Malala Yousafzai Quotes
In the light of recent government-related events that have left so many women feeling betrayed and voiceless, being able to recognize this year's International Day of the Girl on October 11 feels like a beam of hope. One appropriate way to honor the occasion is to read the wise words of Malala Yousafzai, whose work has done so much to help girls all over the world.
As a young teen in her native Pakistan, Malala protested the Taliban's ban on education for girls and women, knowing it was a risky fight. In 2012, a masked gunman shot Malala in the head as she was riding a bus; she was flown to England for treatment and made a miraculous recovery. Refusing to give in to fear and intimidation, Malala continued her quest for equal education worldwide, according to Biography. Her 2013 book I Am Malala: The Girl Who Stood Up For Education and Was Shot By the Taliban became a bestseller, and the following year, Malala was awarded the Nobel Peace Prize.
Today, Malala is a 21-year-old student at Oxford, but her work continues. She and her father founded the Malala Fund, which works to raise awareness and establish schools in areas of the world where girls are unlikely to go beyond an elementary education, as Malala's official website explains.
A gifted writer and an inspirational speaker, Malala has offered many words of wisdom to audiences worldwide. Take a moment on this International Day of the Girl to reflect on her remarkable life. You may even be moved to join her cause and help give girls the education they deserve.