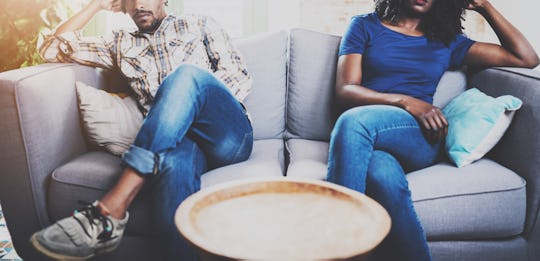 SFIO CRACHO/Fotolia
11 Moms Reveal The One Annoying Thing Their Partner Does That Drives Them Up The Wall
The nagging wife and the hapless husband are tropes, to be sure, but it's a stereotype for a reason. The fact is, when you live with someone, they're inevitably going to do things that annoy you. It might be a parent or a roommate, but when it's the person you've chosen to spend your life with, those irritating habits can really get under your skin. I know I'm not the only one rolling my eyes at my husband, so I asked moms to reveal the one annoying thing their partner does that drives them up the wall. What I got was a veritable treasure trove of obnoxious behavior.
My husband is in the Army and gets up every morning, at 4:00 a.m., to head out for physical training. I know there are some spouses who get up with their soldiers in solidarity, but I'm a stay-at-home mom and sleep is more important to me than pretty much anything else. Look, I understand that my husband needs to turn on some lights and make a little bit of noise, but why does it take him approximately 17,000 trips to the car to be ready to go? I swear, if I hear the alarm beep to alert me to the fact that the door to the garage has been opened one more time, I will lose my actual sh*t.
Maybe we'll be accused of b*tching, but the reality is, sometimes we moms need to complain. Venting is good for the soul, and it gets stuff of our collective chests. Annoying habits won't change how we feel about our partners, either. We still think the world of them, even if they can't seem to put the toilet paper roll on going the right way.