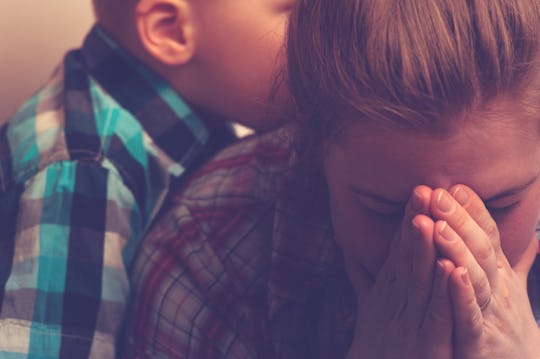 pavel_shishkin/Fotolia
11 Moms Share The Times They Lost Their Cool On Their Kids, Because We're All Human
I am probably one of the worst offenders of losing my patience with my kids. I think the story is similar for so many of us, too. This loss of control happens when we are at our most tired, most vulnerable, or most stressed. So when I asked moms to share the times they lost their cool around their kids, and many responded with, "Just one time?", I wasn't particularly surprised. And while we giggled away reminiscing about all of the times we simply couldn't handle motherhood plus life, something serious dawned on me: we are constantly losing our temper, at rates that are possibly way too high. But, hey, I am not playing the blaming game here. Again, I am easily the worst offender.
I am most prone to flipping out on my kids right before bed time. My "witching hour" is right after a full day of work, an evening full of catching up on other work, and a dinner during which I tried to keep the kids on task. It usually happens before or during their baths. Usually, my pre-schooler will refuse to undress, or he'll want to undress himself only to take what feels like an hour to remove a sock. My 8-year-old will suddenly remember something she has to do for school, like, "Hey, mom, it's 'dress like a pirate' day at school tomorrow and I need a costume." And my cat just, once again, threw up all over the rug. That is when I lose all reason and my shi*t.
The thing is, though, I feel terrible after every single time. And, it happens often, so I pretty much feel terrible about my parenting most of the time. I go to sleep every night promising I'll do better tomorrow. I lie down and think of how I will better handle the situation, how I'll be proactive, how I'll be more patient. I have good intentions, but then? Well, and then I lose my cool.