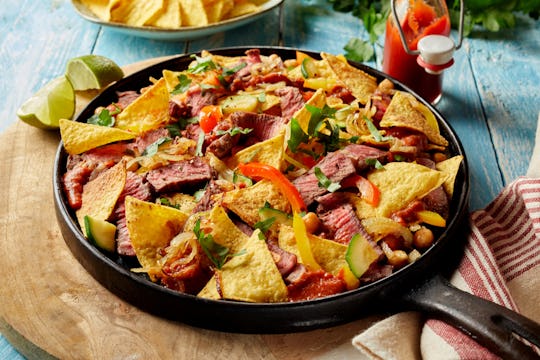 stockcreations/Shutterstock
A Super Bowl Party Without These Favorite Foods Would Be A Major Bummer
When the Rams face off against the Patriots in a few days, millions of people will be crowded around the TV... that is, when they're not crowded around the dining-room table. It's hard to resist going to a party featuring the most popular Super Bowl party food, even if you're not much of a football fan.
This is no time for side salads and smoothies. Arctic temperatures and men colliding over a leather ball call for hot, satisfying comfort food. The kind that requires extra-strength paper plates and a handy supply of wet wipes to take care of greasy fingers. The kind that chases away the chill and fills your heart as well as your stomach.
Google recently released a list of most-searched Super Bowl party foods according to state, as Today reported. While some states had rather unconventional choices (granola bars, Mississippi? Really?), most were the snacks and entrees we typically associate with the NFC championship: dips, pretzels, chili, soup. (California residents looked up "baked chicken breast," but odds are those humble meat slices ended up under sauces and gooey cheese anyway.)
If you're looking for the tried-and-true party favorites for your own Super Bowl spread, here are some recipes to get you going. Most allow for your own variations (guacamole with or without tomatoes; sandwiches with or without pickles), which goes right along with the casual theme of the day. Happy eating!