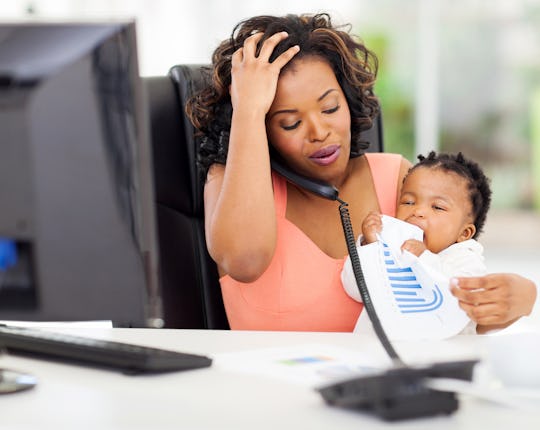 Fotolia
11 Offensive Things People Say To Working Moms That They Never Say To Working Dads
The moment I found out I was pregnant, I started asking myself an endless list of questions. Suddenly, my future was filled with so many unknowns, and I had things to figure out. How was I going to give birth? Did I want to breastfeed? Was I going to co-sleep? So. Many. Questions. There was one part of my life, however, that was still crystal clear, and that was my desire to continue working. I knew I'd be a working mom and, as a result, I knew I'd hear the offensive things people say to working moms that they never say to working dads. I didn't have to procreate and hold a job, to know that our society is still holding parents to sexist, gender stereotypes that insist a woman shouldn't work after she has a child.
I never viewed working while simultaneously being a mother to be a "hard" or "difficult" thing. I honestly never contemplated any other set-up, as I value my career, love my job and gain personal satisfaction and fulfillment from the work that I do. Just like my son is a big part of my life, so is my job and — contrary to prevailing, popular and public belief — I knew I could enjoy motherhood and employment simultaneously, without hurting one or other or both. I knew that, by choosing to work and parent at the same time, I would be facing some backlash and judgment, but I didn't prepare myself for just how angry that judgment and backlash would leave me. My partner, who also worked after our son is born and who is now a full-time student, was never questioned for his decision to rejoin the workforce after our son was born. No one asked him if he was trying to "have it all" or if he had a hard time deciding to return to work or if he missed our son when he was clocking in for a 9 to 5 shift. I watched him enjoy a complex human experience — a fulfilled life — without anyone so much as batting an eye. I, on the other hand, was asked to defend my decision to work and parent all the time. It was as exhausting as it was infuriating.
While times are changing and gender equality is slowly but surely becoming more and more of a reality, it's still hard to feel completely optimistic when I hear the following questions and comments on a far-too-frequent basis. Although, you know what they say: you can't fix what you don't know is broken. So, if we could just put an end to the following sexist and offensive things that people feel far too confident saying to working mothers, but not working fathers, that would be great.