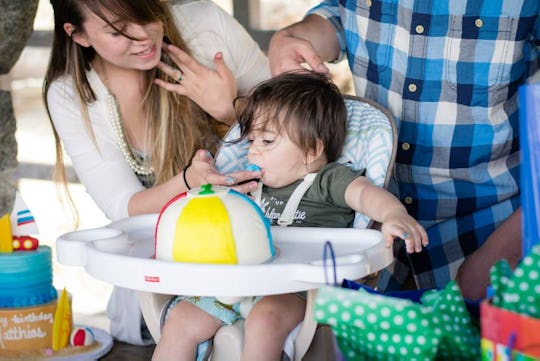 Courtesy of Danielle Campoamor
11 Photos You *Must* Take At Your Kid's First Birthday Party
The first few months of motherhood seem to last forever. They're full of change, joy and sadness, fear and excitement, and as us parents do our best to adjust to our new lives and survive life with a newborn. I spent most of the first few months of motherhood worrying and, well, taking pictures. And then, just like that, my baby turned 1 and all of my newborn worries disappeared. My picture taking, however, only accelerated. Hence, I may or may not have taken every picture you must take at your kid's first birthday, multiple times.
I've always enjoyed taking pictures, and I want to say that when you spend your time worrying about another human being, at the very least you can do yourself a favor and document the moments when everything seems totally fine. OK, fine. I document all moments, fine or not. I'm only slightly obsessed with photographs. At the end of every year, I have to sort through tens of thousands of photos in order to make a yearly photo album. I have a love for looking through my photo albums, remembering moments long forgotten and reliving moments that were fleeting.
When my kids turned 1, I was a tad heartbroken. Yes, the first few months of motherhood were hard, but my babies' first years were also full of love and milestones. Both of my children have seemed to grow so damn quickly, so magically, and their first birthdays hit me hard. I cried the night before they turned 1, and I prepared for that day for months. I put more time and energy into their first birthdays than I did for my own wedding, actually. I chose every detail, every cupcake, planned every song, and facilitated every activity. I wanted it to be perfect because my babies were turning 1 and, honestly, what is more important than that? (I know, many more things, but during those moments my kid's first birthdays were all I could think about.)
For my daughter's first birthday I didn't have the money to hire a professional photographer, so most of the pictures were taken by me. But five years later, for my son's birthday, I was finally able to find someone to take photos of our special event and, well, those photos are priceless. So with that in mind, here are a few photos you need to take at your baby's first birthday party. Trust me when I say, you'll want to remember that day forever.