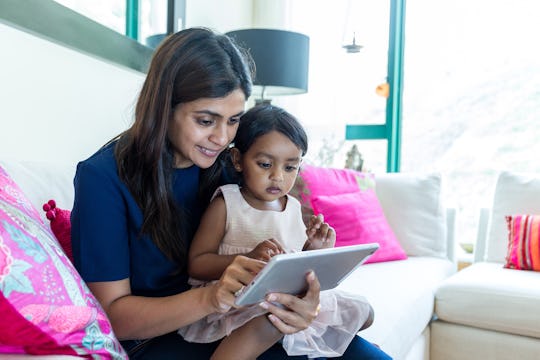 Fotolia
8 Thoughts Every Mom Has When She Posts A Picture Of Her Kid On Social Media
There's no denying that social media has become a big part of both our professional and personal lives. It also evolves to suit us and our needs as we grow and, well, evolve also. While we were once just taking selfies, posting pictures of our dinners and using social media to date (although, parents still do all of those things, make no mistake) us moms are now using our feeds to post pictures of our kids, too. So, just like someone posting a picture of their puppy is going to be thinking a thing or two, there are thoughts every mom has when she posts a picture of her kid on social media, too. I mean, we may not all be enjoying (or getting through) the same life experiences, but we're still all in this together.
What a mother is or isn't willing to share about her personal life online, family included, is entirely up to her (as it should be). I have friends online who are posting pictures every few hours it feels like, and are more than happy to take us along on whatever personal journey they're experiencing and/or enjoying. I have other friends, however, who don't post much at all, and feel uncomfortable sharing photos of their kid. Like any other parenting choice I say, to each their own. Refusing to share a picture of your kid on the internet doesn't automatically make you paranoid, and posting pictures every two minutes doesn't automatically make you careless.
However, if you're one of those millennial mothers who don't mind sharing adorable pictures of your kid on the internet, I have a feeling there are a few thoughts that go through your head the moment you hit "post." Like I said, we're all in this together.