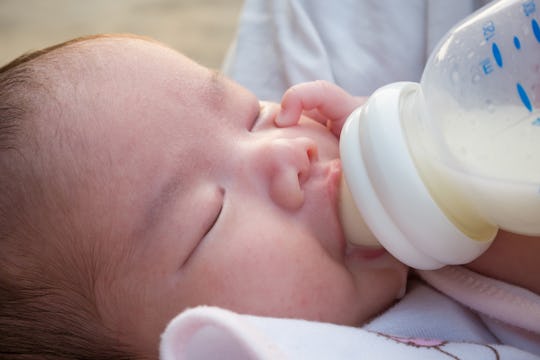 Kwangmoo/Fotolia
11 Reasons Why New Moms Shouldn't *Have* To Try Breastfeeding
If you've spent time any time on social media, you've probably seen pregnant women discuss how they're going to feed their babies. The comment threads may start differently, but in my experience they almost always end the same way: someone says the new mom should at least try to breastfeed. The implication of this admission is clear: breastfeeding is the only legitimate choice. And while trying (and I mean really trying) and "failing" at breastfeeding is acceptable, choosing not to breastfeed at all is not. But new moms shouldn't have to try breastfeeding, for a variety of really valid reasons. They don't have to give nursing a go when they're in the hospital, or to see if they'll like it, or to figure out if nursing will work for them, or to assuage the social media masses.
A large number of parents, doctors, nurses, lactation consultants, child-free friends, and strangers on the internet have spent a solid amount of energy imploring new moms to at least give breastfeeding a shot. Hell, I used to be one of them! I would tell anyone who would listen that they should try breastfeeding, and I truly believed I was doing them a favor. I figured I was at least acknowledging the possibility that breastfeeding doesn't always work out; a kindness that isn't always offered to new parents. And on the surface I will admit that the whole "just give nursing a go" comments seem reasonable, and even well-intentioned. But when you dig deeper, these notions imply that there is only one right way to feed your baby. And that's just not true.
By using the word "should" in this context, people imply that the decision to breastfeed is a moral choice rather than a personal one that every new mom gets to make for herself. It places a not-so-subtle pressure on people to use their bodies in a way they might not want to, and in a way that somehow proves their abilities as a parent. As a culture, we've become so devoted to ensuring that babies are breastfed that we seem to have forgotten that there's another person who's part of the equation: the lactating parent. And that person has an inherent human right to make choices about their bodies and without facing shame or pressure.
So, yeah, there are so many reasons new moms shouldn't have to try breastfeeding, including the following:
This article was originally published on