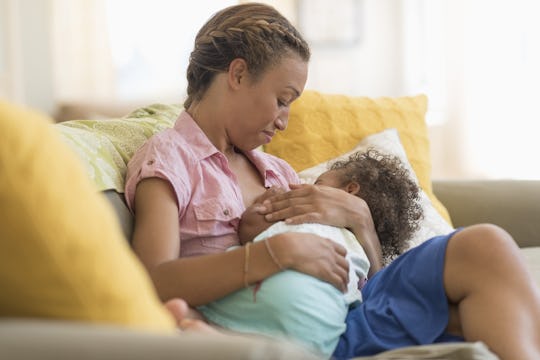 Amble Design/Shutterstock
11 Sacrifices You Make When You're Breastfeeding, That Are Totally Worth It
For the record, yes, breastfeeding is wonderful and glorious and it's a miracle, and women's bodies are amazing and miraculous and isn't life wonderful? However, we also need to acknowledge that it's hard and stressful and, like many other aspects of parenting, breastfeeding requires a lot of sacrifices. Is it worth it? Absolutely. Is it still difficult, even though it's completely worthwhile?
Um, yes. The answer is yes, totally and completely and unequivocally, yes. In my experience, despite the many (many, many) challenges, breastfeeding has, indeed, been worth it. While my real-life experience definitely didn't match the stereotypical breastfeeding portrayals you see in the media (you know, peaceful and calm and beautiful bonding between mom and baby, with lots of pastel clothing on them both and in a dimly lit room, of course), I still found there to be perks, and things to appreciate. There were complications and moments of doubt and pain and I had to surrender certain abilities in order to make breastfeeding work for me and my baby, but it was absolutely worth it.
So, yes, there can definitely be an endless supply of tears, lots of stress, plenty of inconvenience and many hours spent thinking that it would just never work when you're breastfeeding. But would I, personally, it all over again, knowing that it is difficult? For sure. Here's just a small sampling of the struggles that often feel like sacrifices, but, in the end, are most definitely worth the pay out.