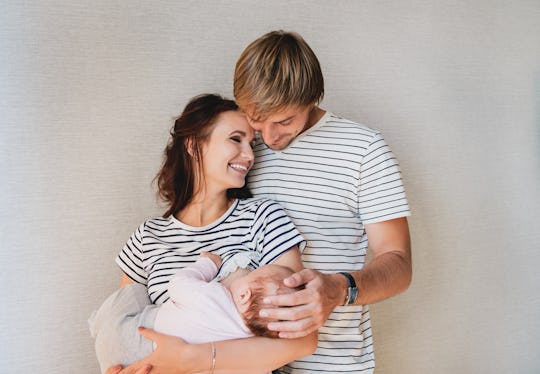 Romanova Anna/Fotolia
11 Things Every Grown-Ass Dad Automatically Does When You're Breastfeeding, Because This Isn't The 1950s
Breastfeeding occupies a weird place in our culture. We have the very clear messaging of "breast is best," which is problematic but at least highlights a woman's right to nurse her baby; a refreshing change after years of everyone, from doctors to food companies to random know-it-alls, discouraging breastfeeding. At the same time, we still have the lingering stigma attached to breastfeeding, including the idea that breasts can't be separated from female sexuality. This can be difficult terrain to navigate on your own, but if you're lucky you'll have a grown-ass dad who supports breastfeeding in your life, because it's not the '50s anymore folks.
A grown-ass man is one who does not allow himself to buy in to the garbage, patriarchal nonsense of the past — things that sexualize breastfeeding or see it as "woman's work." He recognizes that a relationship is a partnership, and that he needs to be an active partner. Gals, if you're going to be with a man, settle for nothing less than a grown-ass man, otherwise they aren't worth the trouble.
That's not saying we don't all have some less-than perfect moments from time to time. I consider myself a grown-ass woman and I once cried because the delivery guy brought me the wrong sandwich and wouldn't come back. And not two days ago I literally started yelling at the weather in my mom voice when it started doing something I didn't like. But being grown doesn't mean never faltering or screwing up, it just means having good bearings, knowing what's The Right Thing To Do, doing that thing, and, when you screw up, admitting your error. Think of being grown-ass as varsity-level adulting. Because whereas adulting takes marked effort, being grown is when one does adult, responsible, enlightened things naturally, without having to visibly exert a ton of effort or be told they have to do it.
So what can are things a grown-ass dad will automatically do in regards to breastfeeding? Here's a start: