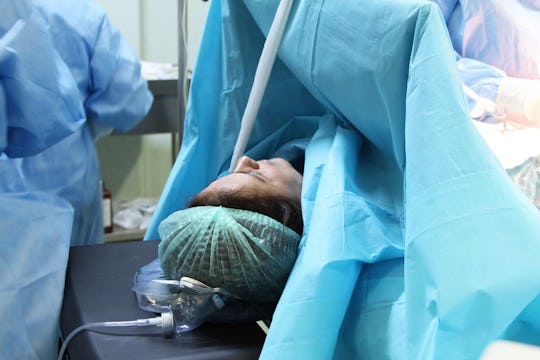 oceandigital/Fotolia
11 Things Grown-Ass Men Say After Their Partner Has A C-Section
No matter how you go about it, birth is never a cakewalk. But as someone who has experienced two different modes of baby expulsion— surgically and "the old fashioned way" respectively — I will say there is a unique set of challenges that go along with having a C-section. In times such as these, having a loving, compassionate partner by your side can make the difference between a terrible recovery and a positive one, and the things grown-ass men say after their partner has a C-section are a big part of a good (or at least less terrible) experience.
And so this is for you, gentlemen whose partners have just had (or are going to have) a C-section — we know you are up to this task. And if you're not... well, congrats, you've found a handy dandy guide in this article to make you ready.
You're welcome.
In all actuality, the task you face is pretty simple: be supportive, be proactive, and be ready to work like you've never worked before. This is basically the short version for all new fathers, but the ways it's true for dads whose babies were delivered via C-section shows itself in some particular ways. Because your partner is going to be facing different physical (and, quite possibly, psychological) challenges as a result of her surgery.
But you can do it. You're a grown-ass man! And here's some helpful phrases to keep in your back pocket.