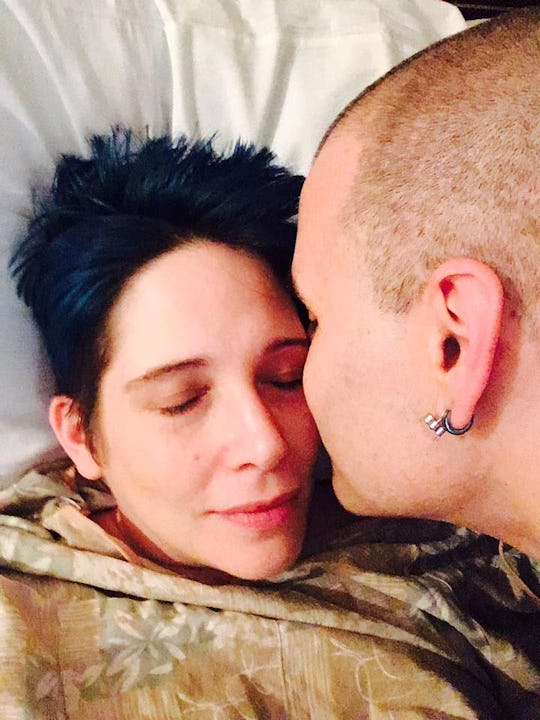 Courtesy of Steph Montgomery
10 Helpful Things Every Grown-Ass Man Says To His Partner Postpartum
I've always had love-hate relationship with my body, especially after childbirth. One one hand, pregnancy is amazing. On the other hand, it seriously changes your body and everyone, from the media and your friends to the voices in your head, is telling you that you should hate your body and work as hard as humanly possible to change it. Whether I like it or not, my partner's words matter when it comes to feeling good about my body. In fact, there are things every grown-ass man says to his postpartum partner that can make or break your ability to feel good about your body after childbirth.
It took me a while to come to terms with the fact that my body would never be the same after my first baby. Honestly, I think it was a long process because my husband, at the time, was constantly suggesting I work out or eat "healthy." These things may sound supportive in the right context, but all I heard was, "I don't like the way you look and you need to change." That was honestly the last message I needed. I was depressed, breastfeeding wasn't going well, and I was filled with self-doubt about my ability as a parent. I thought I would never feel good or like myself again. It sucked.
This time around has been so different. I know now that my body apparently sucks at growing humans. I had a pretty complicated pregnancy and traumatic birth. I was pretty pissed off at my body for "failing me" during pregnancy, childbirth, and breastfeeding, and was at my highest non-pregnant weight after delivery. However, despite all of those experiences and factors, I feel pretty good about my body. What's different? I now have a supportive, loving, accepting partner who says exactly the right thing (well, most of the time, anyway).
So, what can men (and partners of all genders) say to help make their postpartum partners feel like they are badass, strong, sexy, beautiful, and enough after growing and birthing humans? Read on for some ideas.