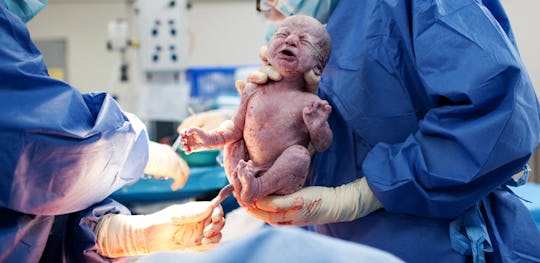 Martin Valigursky/Fotolia
21 Moms Share The Most Surprising Part About Having A C-Section
Honestly, I don't think we, as a culture, talk about C-sections nearly enough, especially considering so many mothers experience them. And because of a number of factors, the little we do talk about it always seems to be a familiar narrative: "It's not a great way to give birth, but be thankful because everyone is healthy." As a result, people don't know what to expect, so I asked moms to share the most surprising part about having a C-section. In the end, and always, we deserve to know what we, as pregnant women preparing to give birth, might be in for.
In talking to women about C-section delivery for a few years now, I have learned (perhaps not surprisingly) that there is no one C-section experience. The truth of the matter is that there are so many reactions to (and feelings that can go along with) this specific kind of birth. Yes, lots of women are disappointed. Yes, many women simply don't like it. But other women loved the experience and choose it for subsequent births gladly, even if vaginal delivery was an option for them.
That variety came through when I asked my fellow C-section moms what they didn't see coming. There were some commonalities (the main one seemed to be among women who'd had more than one C-section stating that planned ones were usually easier to manage, before, during, and after), but in general it seems there's a lot we can learn from each other.