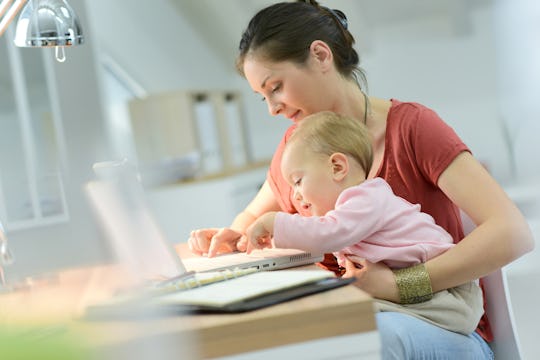 Fotolia
11 Things No One Will Tell You About Working From Home With A Kid, But I Will
Before having kids, working from home or telecommuting seemed like such a great deal. Getting to work productively in silence, and not having to make small talk with coworkers about the football game or episode of The Voice you didn't watch last night, and — as an added bonus — being able to wear yoga pants and not have to put on a bra. Working from home with a kid, however, can be (read: absolutely is) completely different.
I love my kids. I really and truly love my kids. Did I mention that I love my kids? However, attempting to work from home last summer when all four of them were off from school was an exercise in patience and a daily test of my sanity. While I loved being able to spend time with them every day, and sometimes it worked out that I could be attentive and get my work done simultaneously, that "perfect" at-home work day was a rarity. Working from home with kids is not for the faint of heart and isn't always the best of both worlds. It takes organizational and boundary-setting skills, an ability to recognize when things are not working out as planned (see: just about everything in parenting), and a willingness to adapt, which sometimes means working after the kids go to sleep or getting up early in the morning.
It also means getting your priorities straight. You can't always drop everything to help your child find a new show on Netflix, but you are there when they need to you to kiss scrapes and bruises or administer hugs. Above all else, it's important to know your limits, be able to say, "This isn't working for us," and make necessary changes, which if you think about it is probably the most important skill we need in parenting.