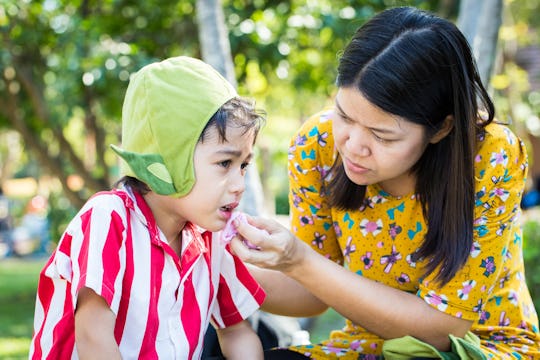 Fotolia
14 Thoughts Every New Mom Has When Her Kid Gets Hurt For The First Time
I considered myself to be somewhat prepared for my kid's arrival. I mean, as prepared as one could be. I had read the books and asked the questions and had the go-bag and the route to the hospital mapped out and my birth plan somewhat solidified. I knew what to do when I brought my baby home for the first time, how to handle sleepless nights, and how to breastfeed. What I didn't prepare for, in any capacity, was the inevitability of my kid experiencing pain. There are thoughts every new mom has when her kids get hurt for the first time; unrelenting, unfair, somewhat ridiculous, definitely scary and intense thoughts that no amount of reading or research can possibly prepare you for. Motherhood can be extremely unforgiving, you guys.
It's hard to see your kid in pain, even though you know that it's inevitable and necessary and part of growing up. It's not like I want to put my kid in a bubble or forbid him from leaving the house or keep him from being brave and adventurous and care-free. Those are all amazing things that I encourage in my son. It's just, you know, they usually end in a pretty nasty fall and a few scrapes and bruises and tears. I have since been able to somewhat handle those moments and, honestly, any crying that may or may not occur doesn't late for very long. For the most part, anytime my kid falls down, I'm the one who hurts. He usually dusts himself off, continues playing and adds to the already extensive collection of bruises on his knees that I'm sure he's not even aware of.
Still, that first time your kid gets hurt is rough. Every fiber of your being urges you to pick up your kid and run to the nearest emergency room, even though that's definitely not necessary (usually). So, if you had (or are currently having) a hard time with the normal bumps and bruises of childhood, know that you're not alone. I guarantee you, most new moms thought the following when their kid hurt themselves for the first time.