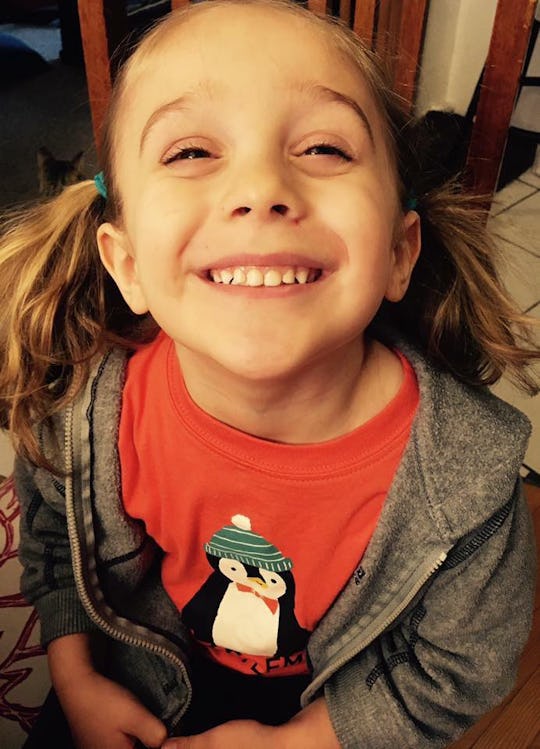 Courtesy of Steph Montgomery
11 Things That Would Definitely Happen If Pre-Schoolers Had Tinder
While my husband and I met online, we've never actually told our kids how we met. It's not that we're embarrassed. I mean, how else are two busy single parents supposed to meet people? It's that it's hard to explain to the preschool crowd. "You are always telling me that it's what inside that matters, and then you look at pictures to decide if you like someone?" So, we started wondering what it would be like if if pre-schoolers had Tinder.
Most of the time, a pre-schooler's play date options are limited to their parents' friends' kids and people they know at preschool. Pretty small ocean of fish. Now, obviously I'm imagining this whole pre-schoolers-have-Tinder-thing in a non-romantic, just-trying-find-someone-to-hang-out-with-on-the playground way. They're children, for goodness sakes. However, we use the internet to find friends, too, so why not at least imagine what toddler's would use a Tinder-like play date finder for, right? In fact, it's really not hard to envision what my 4-year-old's profile and play date priorities might look like.
Must like cats, and be OK with me pretending to be one.
Favorite Book: The Very Hungry Caterpillar
Favorite Movies: Big Hero Six and Finding Nemo, except for the scary parts with the sharks and jelly fish. You must agree to skip over said scary parts, because self care is important.
Favorite Food: Banana muffins. Please don't touch mine, or I will freak out.
Favorite Color: Purple, 'cause that's what mom likes. (Also, this is adorable.)
If pre-schoolers had Tinder, it would probably look something like the following, because everything is simple when you're a kid. It's kind of awesome and no I'm not jealous (I'm totally jealous).