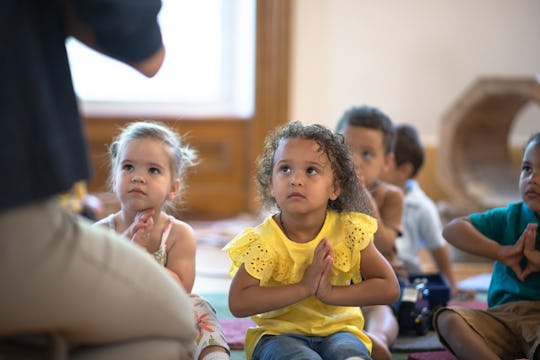 FatCamera/E+/Getty Images
Here Are 11 Things You Really Should Know About Your Daycare
You want your child to receive the best care possible.
Daycare can be a great way for your child to be around other kids, get in some socialization, and learn new things, too. But before you entrust the daycare down the block with your tot, you'll need to do your due diligence so that you give your kid the best possible head start in her education. Whether you're thinking about putting your child in a traditional childcare center or an in-home option, these are 11 things you should know about your daycare before sending your sweet little babe off.
"Sending your child to daycare can be an overwhelming task, especially if you haven't enrolled in one before or have never employed a daycare outside of a family member or friend," Sherrie MacLean, RECE and National Director of Operations at Tiny Hoppers, tells Romper. "To ease your worries, write down all the questions you have and ask them when you visit the center — don't be shy!" By doing your research and scheduling an on-site visit, you can allay your fears about daycare and guarantee that your child will have the best experience possible.
But no matter what type of daycare you choose, you should always do your research first. Ideally, it should be accredited by an organization like the National Association for the Education of Young Children (NAEYC), which helps to ensure that the center that you choose adheres to strictly high standards of quality care and has a curriculum that brings out the best in your child. And of course, be sure to ask these questions.