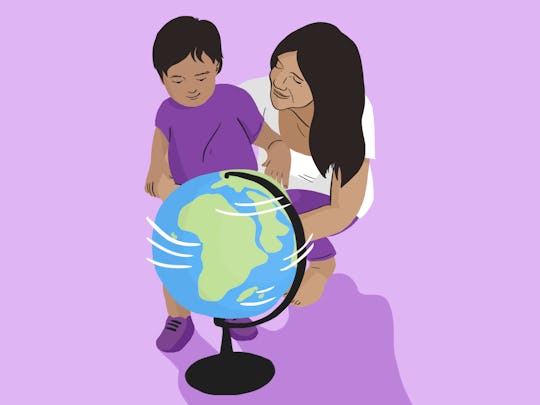 Claire Joines/Romper
11 Times When Having A Super Smart Toddler Is Kind Of A Nightmare
Having a gifted child is truly a blessing, but that doesn't mean that it comes without its woes. Sometimes there's early signs that your child is gifted, and taking notice of them will help you to seek the education your child needs long before they're ever taking the SATs. When your kid grows up faster than expected, it can offer a new and exciting factor to your relationship with them. Suddenly, the two you of can communicate like normal humans earlier than you thought you would be able to (no more high-pitched baby voices or having entire conversations surrounding the sounds of farm animals). It's so awesome and so terrifying all at once.
This is admittedly already a difficult thing to write about because parents are well-trained to feel guilty about speaking bluntly about the fact that they have a smart kid. It's like, OK, yes, all children have their own strengths, and they are all genuinely, honestly beautiful and valuable; I'm not debating that. And when I talk about my super smart toddler, I also understand that his current developmental levels might not be indicative of what kind of grown kid or adult he'll be, nor does, say, his early reading comprehension mean that he's necessarily "better" than other kids, or even that he'll ultimately end up smarter than anyone else. That's not the point.
And (I told you, this is hard, I do feel like I have to say all of this) I also know that talking about the benchmarks my kid is hitting might very well make another parent feel a pang of doubt or insecurity about the fact the her kid of the same age (who is probably totally healthy and fine and awesome) isn't quite there yet. And that sucks. I don't want to make other parents feel that way. I don't want to talk about my kid in a way that makes him feel like he's better than other kids either, but I also want to be able to talk about my kid honestly and openly and without judgment, just like any other parent. I want to be able to celebrate his successes, and complain about the challenges. Because I can assure you, there are challenges that come with having a kid who is smart for their age.
If your child is advanced in any way, you're obviously going to be proud of them. I mean, birthing a genius is kind of a big deal. But sometimes those little Einstein's come with a specific set of challenges. What you thought was a dream come true is sometimes actually a nightmare (an adorable nightmare, but still frustrating nonetheless). These kids are different in the best kind of way but sometimes their antics make us want to pull our hair out.
Here's how: