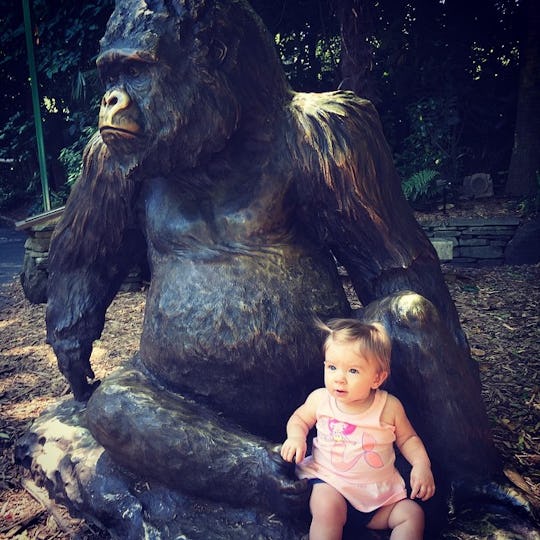 Courtesy of Samantha Darby
11 Zoo Safety Tips So You Can Fully Enjoy The Lions, Tigers, & Bears
I don't make a lot of absolutes when it comes to parenting, but I truly believe that buying your kid a membership to your city's zoo is one of the best choices you can make. My daughter was still a baby when I bought ours, and it has turned us into weekly zoo visitors, offering tons of education and fun. Some of my favorite memories are built into the walls of Zoo Atlanta, and I think it's a phenomenal activity for every kid. But without a few zoo safety tips, those fun zoo days can quickly turn into an afternoon from hell.
Just this past weekend, Cincinnati Zoo had to make the heartbreaking decision to kill a male gorilla after a 4-year-old boy made his way into the gorilla's enclosure. Although the Internet has predictably weighed in on the controversy with its opinions and expertise from behind their smartphones, the truth is, this kind of devastating incident could happen again. In fact, the Cincinnati Zoo isn't the first zoo to experience a small child making its way into the gorilla enclosures. ABC News reported that, in 1996, a 3-year-old boy managed to climb a barrier and land inside the gorilla habitat. Fortunately, his story differed from this past weekend's news.
In the 1996 incident, a female gorilla found the toddler and carried him to safety without any fear, but the fact remains the same — gorilla enclosures are no place for children. None of the animal habitats in the zoo are for children to be in, and while you think you could prevent an incident like these from happening to your own kid, the truth is, things happen. Any kid can tumble into any animal enclosure, which is why it's so important to have a zoo safety guide so your days out are fun, happy, and safe for both your children and the animals.