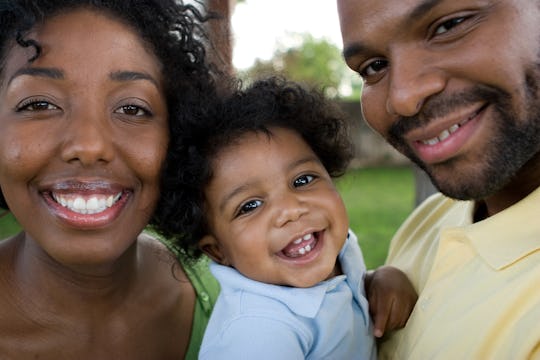 Fotolia
12 "First Time Parents" Milestones You And Your Partner Should Reach In A Year
Doctors and baby experts talk a lot about the milestones baby should reach in their first year; from gaining head and neck control, to rolling over, to sitting up, crawling, and beyond. Milestones aren't just for babies, though. First-time parents reach multiple milestones in their first year of parenting together, too.
Some of them are sweet, like witnessing how your partner reacts to hearing your child giggle for the first time. Others are, well, not as sweet, like the first time you both have to use your getting-dressed-in-a-car skills not for fun and sexy reasons, but because your baby had a major diaper or puke situation while stopping for gas and fresh air in the middle of nowhere, and the one sketchy bathroom is occupied.
Keeping your relationship strong after having a baby is challenging, no doubt. When you're sleep-deprived, touched out, and heavily focused on a new little person who depends on you for everything, it's easy to neglect yourselves and each other, or find yourselves arguing more than normal (including arguing over pretty silly things).
Fortunately, life with a baby can be pretty entertaining, too; if not at first, then certainly once some time has passed and the initial embarrassment/disgust/shock has worn off. It's like I often say: the couple that gets pooped on together, stays together (or so I hope, since that has definitely happened to my partner and I, more than once).