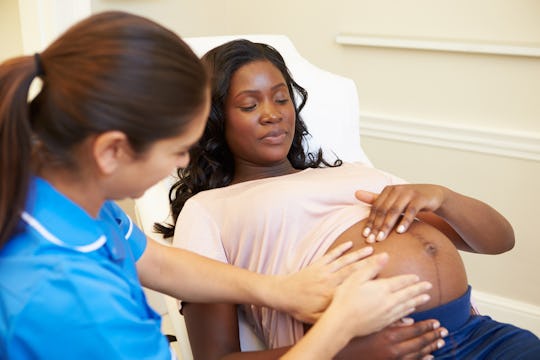 Fotolia
12 Moments During Your Pregnancy When Your Body Makes You Think You're Going Crazy
I've recently come down with a moderate-to-severe case of baby fever. Over the past few weeks, several of my friends have either announced pregnancies or birthed gorgeous little ones, and Timehop keeps showing me all of my old bump photos from two years ago. The pictures are all right in that sweet spot during my late second and early third trimester, too, when I still had second trimester energy and looked adorably pregnant in all of my favorite autumn maternity outfits. Logically, I can't handle another baby right now, so I'm trying to remember as many crazy things about pregnancy as I can, to restore my don't-have-another-baby-for-at-least-a-little-while willpower.
I need to remember that pregnancy was not all free gelato and other pregnancy perks, and that life with a newborn was not just toothless grins and brand new baby giggles (also known as the most heartwarming and joyful sound human ears can possibly perceive). Seriously, that moment when you're already amazed and hopelessly in love with your new baby, and then they just let out this ridiculously happy sound, like they're as happy as they've ever been in their entire life, because they're literally as happy as they've ever been in their entire life? I can't even handle it. Weapons-grade cuteness, right there. But I digress.
As great as some parts of pregnancy are, pregnancy is also uncomfortable and inconvenient and just downright crazy-making at times. The miracle of creating new life comes with quite a few side effect and they're not even remotely as cute as all those photos make them out to be. Maybe if I could have saved pregnancy farts or restless legs in my photo album, it might not be such a struggle to stick to my life plan right now. Oh well. If you're currently pregnant and want to verify that you're not going nuts (even though your body is dragging you to the edge of your sanity), or if you're like me and need a reminder that pregnancy is totally cray, keep reading.