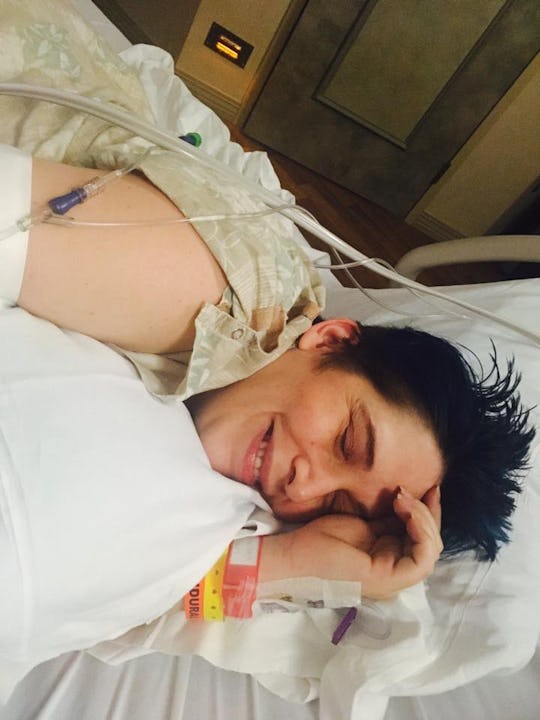 courtesy of Steph Montgomery
12 Moms Reveal The Most WTF Part Of Getting Induced
When I found out I had to be induced I was pretty damn scared. I'd heard induction was a slow, painful process, it often didn't work, and it would likely lead to a C-section. So I was anxious, compounded by the fact that I was having health issues and was concerned for the health of my baby. Thankfully, induction was nothing like I expected. In fact, more than a few things caught me off guard. I know that labor can a pretty individual experience, so I asked other moms if anything caught them off guard about induction, too. Turns out, I'm not alone.
A lot of the following moms, like me, were totally surprised by how their inductions went, and quite a few things caught them off guard about their birth experiences. Like, for example, how being induced wasn't as scary or horrible as they thought it would be. Also surprising was the fact that their inductions went smoothly, and they didn't need the C-sections so many people promised them they'd inevitably have.
In pretty much every aspect of pregnancy (and parenting, really) your mileage may vary. Not everything you hear, or read on the internet, about other people's births will be true for you. Inductions can be necessary for you and your baby to get through delivery healthy, and that's way more important than having the "perfect" birth experience someone may or may not try to convince you you absolutely have to have.
Read on for more induction experiences that were totally unexpected, surprising, or didn't go as planned, proving once again that birth has a way of catching you completely off guard.