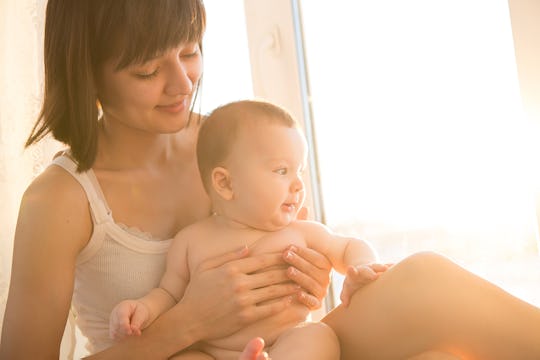 Fotolia
12 Rules Every New Mom Should Follow If She Wants To Survive Her First Year Of Motherhood
To those without children of their own, who one day want to become parents, the thought of "motherhood" can be nothing short of exciting and magical. At least, this is how it was for me. There was just something palpable that even the thought of motherhood produced and, well, that palpable feeling was special. Little did I know that motherhood is also something that can make you feel like you're simply "surviving," and that there are rules every new mom needs to follow if she wants to get through those survivor-mode days. I mean, for as beautiful and miraculous as motherhood is, it's also exhausting and difficult and can leave you in a puddle of self-doubt to the point that just getting through a day can seem impossible.
Maybe it's because I looked up to my own mother; Maybe it's because I imagined a tiny baby in my arms, cuddling them and watching them grow up and play pretend; Maybe it's because I saw how joyful my mother was, and I wanted to experience that specific kind of joy, too. Regardless of why the word "motherhood" was and remains so special to me, and many others who have yet to have children but look forward to the day they do, it's also heavy with expectation and responsibility that can be, well, exhausting. With less sleep, a crazier schedule than you might be used to, more messes, less room for spontaneous plans and a greater need for set schedules, transitioning into parenthood and essentially surviving the first year of motherhood can be difficult, at best.
Of course, feeling like you're simply "surviving" the first year of motherhood doesn't mean that you're a bad mother or that you've made a mistake or that you're ill-equipped for the job. Honestly, it just means that you're a human being who needs more sleep than you're probably getting. Thankfully, there are tricks you can do that will help you not only survive this difficult, yet delightful, first year, but assist you in thoroughly enjoying it.