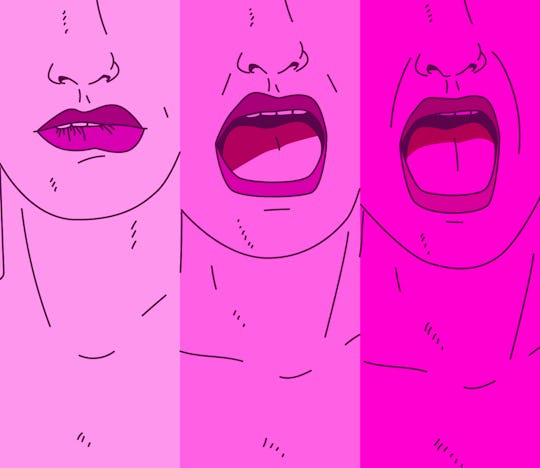 Allison Gore/Romper
12 Surprising Truths About Pregnancy Sex That You Seriously Want To Know
For a society as obsessed with sex as ours, I feel like we don't actually talk about it all that much. Or rather, we talk about it constantly, but not in any meaningful ways that might actual help people have more honest, fulfilling sex. If aliens were to visit Earth for an afternoon and base their knowledge of humanity based on, say, an afternoon of watching TV, can you imagine the ideas they would get about sex? So if frank discussion of typical run-of-the-mill sex is hard to come by, what chance does a pregnant woman have to get a handle on all that's going on with her ever-changing body?
My midwife once told me that anything happens between when you first get pregnant and your child's first birthday can very easily be blamed on pregnancy. There are so many changes that occur during pregnancy (and then again postpartum, especially if you're breastfeeding) that take your body a while to adjust to. And when you consider your baby is growing from microscopic cells to a fully formed human in nine short months (that feel like nine very long years sometimes), you barely have time to adjust to one change before another comes your way.
All of these changes, of course, are going to take (or at the very least have the potential to take) their toll on pretty much every aspect of your life, including sex. But here's the weird thing: While there are a million near universal truths when it comes to doing the dirty with a bun in the oven (OMG that sounds filthy), there is not a single actual universal. As such, I have compiled for your benefit a varied and contradictory list of things you can expect when you're expecting...and doing it.