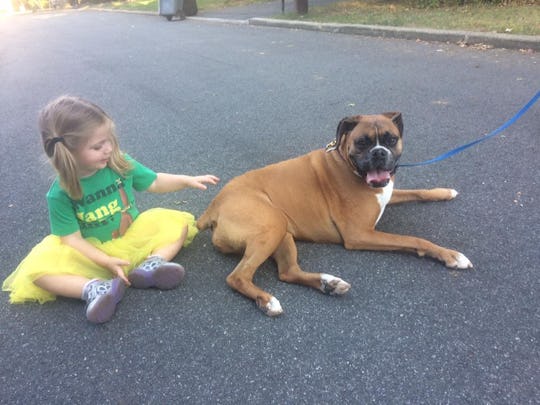 Photo courtesy of Jamie Kenney
12 Things A Mom Really Wants To Say When You Talk About Your "Fur Baby"
Hello, my name is Jamie and I don't have any pets but I love animals. I'm one of those weirdos who can barely restrain her joy as she cautiously approaches a dog and asks to pet it. If I see a cat at a party, well, that cat obviously needs a cuddle. I also love children, so much so that I up and had two. While some people can juggle both sets of babies, fur and human, I choose not to. And, as a parent, I'd like to talk about your "fur baby."
I am very aware that there there sometimes exists a tension between pet parents and actual parents, and I want to say that I think it's a tension that serves no purpose and could be ameliorated significantly if everyone would just calm the you-know-what down and be respectful of one another. Seriously, you guys, it's not that hard! Like, this is a "problem" that involves children and animals! This should be adorable, not tense! Silly babies?! Dopey puppies and kitties?! We have all the ingredients for a YouTube video utopia, folks.
Having said that, I do believe we have to clear up a few misunderstandings if us pet parents and actual parents are going to live in baby/puppy/kitty harmony. So, it's time to lower our guard, stop being jerks, and just let everyone chill. For example: