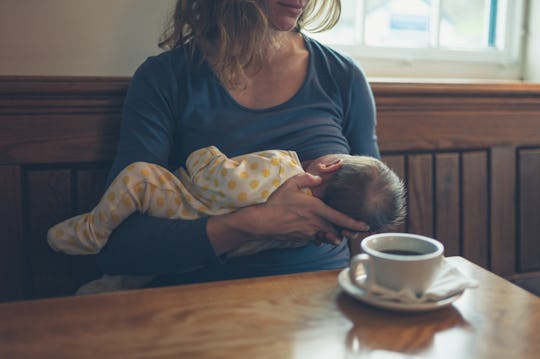 LoloStock/Fotolia
13 *Totally Satisfying* Experiences Only A Breastfeeding Mom Will Understand
When you choose to breastfeed, you change the way you move through the world for a while. Everything, and I mean everything, revolves around your boobs. They become their own entity but are simultaneously intimately connected to you. TBH, it can be a pain in the ass. That said, in my humble opinion, there are a number of satisfying experiences only a breastfeeding mom will understand.
I know some people prickle when they see "only a breastfeeding mom will understand" and, hey, I get it. But believe me: I'd never write anything that suggests that there is a universal, one-size-fits all, Right Way To Feed Your Baby. Fed is best! To each their own! And I get that breastfeeding is, in many circles, held up as this creepy pinnacle of womanhood and people who don't do it are shunned, but that's not what's happening here. This is literally just saying "Hey, if you had this experience you know about this. If you didn't, you don't." It's not that breastfeeding moms have cornered the market on maternal wisdom. It's that breastfeeding moms have myriad unique experiences related to breastfeeding that people who, for whatever reason, won't understand. The same way C-section moms know things vaginal birth moms will never begin to fathom. Or how adoptive moms know truths those who haven't adopted can't know.
It's not about ranking these experiences, either. Instead, it's about recognizing their uniqueness, appreciating another person's perspective and, perhaps and in the process, learning from other moms.