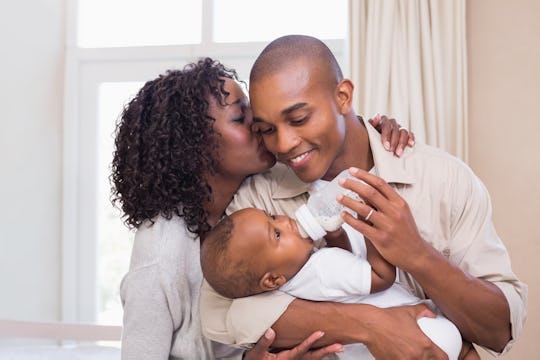 WavebreakmediaMicro/Fotolia
What Fed Up Formula-Feeding Moms Want Breastfeeding Moms To Know
I never planned to be a formula-feeding mom, so I wasn't prepared. I didn't buy any formula, and I didn't ready myself for the constant criticism and shame for eventually using formula, mostly from breastfeeding moms. It hurt, a lot, because I used to be one of them. But as my confidence grew I became more angry than sad. I mean, can we stop the mommy already?
In an attempt to finally squash this "us" versus "them" thing, I think it's time someone highlight the things formula-feeding moms want breastfeeding moms to know. Now, please don't misunderstand, I totally support breastfeeding moms, and I know how hard breastfeeding can be. I am able to see this issue from both sides, having been both a badass breastfeeding mom and a fearless formula-feeding mom. So, I know first hand that both are awesome ways to feed babies and are challenging in their own ways. So if you love breastfeeding, and it works for your family, that's freaking awesome. Right on. But when it comes to other parents who formula-feed? Their choices have nothing to do with you at all. In other words, leave them alone.
So yeah, a lot of us formula-feeding moms are fed up, and for good reason. It's completely unfair to be shamed for how you feed your babies. Being a mom is hard enough without feeling like people are judging you at every turn. And honestly, how you feed your baby is just one decision in an endless list of decisions we will all make as parents. Instead of judging other people for how they feed their babies, we should start supporting all parents in feeding their babies the way that's best for them. That, I think, would be amazing.