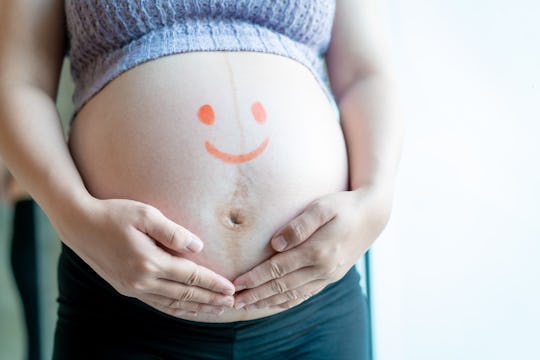 Shutterstock
Here Are 13 Ways To Feel Less Miserable When Pregnancy Is Bumming You Out
Some women breeze through their pregnancies, gorgeously glowing and with nary a stretch mark in sight. And then there's the rest of us, who, well, waddle along, complete with constipation and chloasma. Those nine months sure can give you enough reasons to be irritable, but it's important to make pregnancy less miserable in order to make it through.
"Nine months can be tough both physically and emotionally, but if you have an optimistic outlook and take time to enjoy the many changes, you are more likely to appreciate the experience," Dr. MacKenzie Purdy, an ob/gyn at Vios Fertility Institute, tells Romper. The March of Dimes reported that being depressed or sad during pregnancy can put your unborn baby at risk for premature birth, a lower birth weight, or even learning or behavioral issues down the road. So for your sake as well as your baby's, you should look for ways to find happiness again.
A positive mental attitude goes a long way in having a healthy pregnancy. "Mental health is one of the most important aspects of fertility and pregnancy," says Dr. Purdy. "Some women feel as though they have to suffer in silence and not talk about their concerns," she adds. If you find that you can't shake the sadness, you should speak to a professional about your concerns. And in the meantime, try these tips for having a happier 9 months.