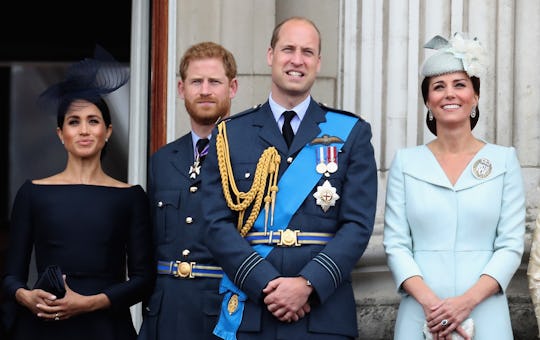 Chris Jackson/Getty Images Entertainment/Getty Images
How To Dress Like The Royals This Halloween Because You're Feeling Fancy
Honestly, being a fan of the royal family can be exhausting. Between figuring out the name of Harry and Meghan's dog to waiting on the edge of my seat to see when Louis will make his next public appearance, keeping up with the life and times of Elizabeth's brood should be a full time job. Luckily, Halloween gives me an excuse to show the whole world how much I love the monarchy by using a royal family Halloween costume.
Obviously, you don't have to dress up as a member of the monarchy to prove you're a fan, but I can't think of a better way to show your love reigns supreme. Plus, the royal family has a reputation for their amazing fashion choices (the hats alone are reason enough to dress like them), so you'll most likely look fabulous no matter which leaf on the family tree you decide to emulate. You can also have some group costume fun if your kiddos are willing to dress up as the youngest generation of royals, who have had no shortage of showstopper moments in their young lives. Really, there's no reason not to dress up as the most powerful bloodline across the pond this year.
Although the royal family doesn't officially celebrate Halloween, you can still rock their looks on the spookiest day of the year. Read on for 14 easy royal family costumes to wear on October 31 — or any day you want.