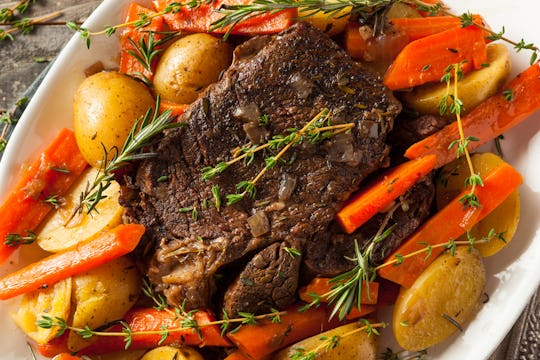 Brent Hofacker/Shutterstock
Set The Mood For "Dessert" With These Instant Pot Valentine's Day Recipes
Getting into the Valentine's Day spirit is a bit different after you have kids. More likely than not, you'll probably be home with your partner and the babies instead of going to a fancy restaurant, and even if you have time to go on a date night with your sweetheart, you've still gotta make sure the kids are fed before you go. Figuring out a romantic menu your whole family will enjoy can be a challenge, but thanks to these 14 Instant Pot recipes for Valentine's Day, you can bring back that loving feeling in no time.
Some people think Valentine's Day is overrated, but why wouldn't you use the excuse to tell the people you love how you feel about them? You can spread the love easily with the foods you choose to serve your family that day, borrowing Cupid's color scheme, or by making something a little fancier than you usually do. And if you're specifically trying to show your partner that they still give you that spark, you can always make recipes that are filled with natural aphrodisiacs (check out this list of sexy ingredients from Cosmo), which are sure to get you and your love in the mood for some alone time later in the evening.
Whatever your intention is with your Valentine's Day menu, your Instant Pot can help you streamline the cooking process and take the stress out of the holiday meal. So read on for 14 of my favorite romantic dishes, and get ready to turn up the heat this V-Day.
This article was originally published on