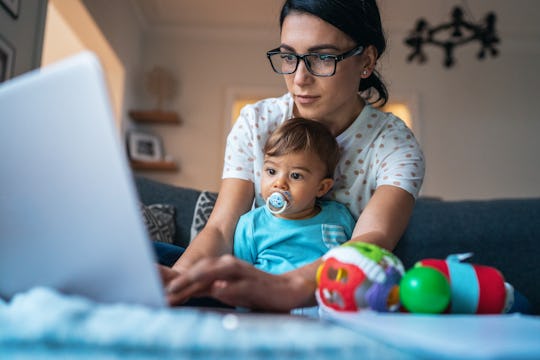 filadendron/E+/Getty Images
These 15 Blue Light Glasses On Amazon Could Save Your Poor Peepers
If your eyes feel tired after sitting in front of a screen, blame it on the blue light. Although this form of UV light can be good for the body during the daytime (it helps to improve attention and can enhance your mood), it's definitely a no-no come nighttime: Since it acts as a stimulant, it can mess with your melatonin (and as a result, your sleep). That's why now might be a good time to check out the many blue light glasses for adults on Amazon. Designed to help to reduce the potentially harmful effects of the rays emanating from your many screens, blue light glasses are a lot more affordable than regular prescription eyeglasses (and there are lots of cute styles to choose from).
Seriously, if you're used to paying an arm and leg for the privilege of clear-sightedness, you'll be thrilled to learn that most of the blue light glasses we found were $20 bucks or less (which means you could, in theory, buy one and have a second pair as a backup). This worthwhile investment could help with more than just your quality of sleep, as blue light exposure can cause a host of other unpleasant symptoms, too. "You can experience eye fatigue and strain," Dr. Hang Nguyen, an optometrist in Newton, CT, told Romper. "You won't be able to read as long, and your eyes can get tired as well, leading to decreased attention span." Headaches, dry eyes, and blurred vision can sometimes be chalked up to blue light emissions, too.
So protect your peepers with these blue light glasses that make eye health both safe and stylish.
We only include products that have been independently selected by Romper's editorial team. However, we may receive a portion of sales if you purchase a product through a link in this article.